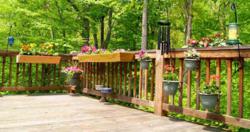 We want to find enough success to continue to participate in the greatest American comeback in history
Asheville, NC (PRWEB) January 11, 2012
In early 2008, Trent Van Dyke had no idea, he would be the CEO of a successful company inspired by a "no tools required" planter bracket. Trent, a real estate broker and investor specializing in 1031 exchanges, and Terry Reno, a self-employed engineer and real estate investor were successful. September 2008 changed everything. The housing bubble burst, the economy crashed, and both men were unemployed.
Terry decided to put his background in engineering to work and with inspiration from his wife Nancy, created a planter bracket that would attach to pickets with no tools, clamps, or screws. Originally, Terry created the bracket with the sole purpose of allowing Nancy to hang a planter without causing damage to their newly built deck. Terry soon realized he had a revolutionary product. He showed his invention to his close friend Trent, hoping to benefit from Trent's vast experience in the corporate world. Both men decided to take the product on the road and quickly found it to be a hit. They came up with the name Rail Rockit in reference to the bracket's patented "rock it to lock it" design. Trent later convinced Terry to create a full product line behind the concept of a "no tools no damage" philosophy. Blue Ridge Bracket Company and the Rockit brand were born.
From the start, Trent and Terry both agreed on two principle rules. Terry says those were "personal life precedes business, and we have an obligation to our community". According to both men, money is not the most important motivating factor in their business venture. Trent feels that creating jobs during an economic downturn is not only necessary but rewarding. Blue Ridge Bracket Company has found success in hiring qualified applicants who were previously unemployed due to the recession. With that in mind, BRBC's goal for 2012 is to "find enough success to continue to participate in the greatest American comeback in history". With their plan of going international through their redesigned business strategy and website, they may have planted a seed that yields unheralded growth for the new year.
Blue Ridge Bracket Company is based in Asheville, North Carolina and carries products for gardening, birding and seasonal decorating. Blue Ridge Company ships to hundreds of independent garden centers, wild bird stores, and hardware stores across the United States and Canada. For more information on Blue Ridge Bracket Company or their products, please visit http://www.justrockit.com. Contact Trent Van Dyke at (828)242-8577 or by mail at Blue Ridge Bracket Company 40 Wendover Road Asheville, North Carolina 28806.
###