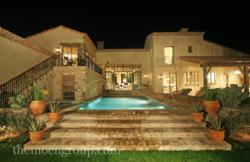 This exceptional home is noteworthy on many fronts and we know the immediate move-in ready concept fills a long awaited need for luxury home buyers.
Scottsdale, Arizona (PRWEB) January 11, 2012
The Moen Group Real Estate proudly debuts one of the most significant custom luxury homes to go up for sale in Scottsdale, Arizona. The first of its kind dream estate, found in the guard gated community of Silverleaf, represents the premiere Arizona home by Linthicum Living, a division of Linthicum, the company that built the nationally renowned Silverleaf Club.
Created as an immediate, move-in ready, fully furnished custom estate, the nearly five million dollar home is best described as a classic French farmhouse with a European style of sophistication throughout and represents a collaboration of the top names in the construction, architecture and interior design business.
"This exceptional home is noteworthy on many fronts and we know the immediate move-in ready concept fills a long awaited need for luxury homebuyers," explains Todd Moen, the home's listing agent and Founding Partner of The Moen Group. "You have Linthicum, who did such a magnificent job building The Silverleaf Club, Don Ziebell of OZ Architects, also known for his work on The Silverleaf Club and to top it off, you have interiors by David Michael Miller. It's a powerhouse line-up representing masters of their crafts and the property certainly reflects that."
Utilizing authentic and antique building materials and methods, the 4,625 sq. ft. estate is a true achievement and a study in the highest design standards. Featuring both a main residence and a spectacular detached guest house, the home built entirely of 12 inch concrete block, effortlessly combines classic French farmhouse design and centuries old antiquities with modern day luxuries. In addition to full home automation run with iPad run Savant technology, the home includes: a pool with a hidden grotto, eight fireplaces, a master suite with a private outdoor lounge and open sky shower and a gourmet kitchen with appliances that are literally works of art.
"We are very excited to debut our first Linthicum Living home in Arizona. The home is an excellent representation of the Linthicum Living brand and captures our vision of offering buyers a true custom home experience built to exacting standards but without the work or wait time usually required for homes of this caliber," says Eric Linthicum, CEO of Linthicum Living. "We chose the best in class for architecture and design and the result is exactly what we wanted; an extraordinary living experience."
In addition to the debut custom home in Silverleaf, Linthicum Living is also currently developing "immediate" luxury custom homes in some of the country's top luxury communities including: Martis Camp in Lake Tahoe and Kukui'ula on Kauai.
The exclusive video taking you inside this first of its kind Arizona luxury home can be seen on The Moen Group's HD real estate video channel at http://www.youtube.com/watch?v=FEs7fw9bq-E
The Moen Group is a Scottsdale, Arizona based luxury real estate brokerage specializing in residential real estate and luxury community sales and marketing in cities including: Scottsdale, Phoenix, Paradise Valley and Sedona, among many others. The Moen Group currently represents or manages more than $250 million worth of luxury real estate in the world's most prestigious communities including: Silverleaf in Scottsdale, Kukui'ula on Kauai and Martis Camp in Lake Tahoe.
For more information, please contact Todd Moen of The Moen Group at 480-315-0991.
###