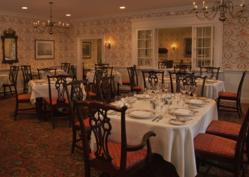 The renovations in addition to our new menu items and continued exemplary service perfectly capture the overall essence of the complete and distinctive Scrimshaw dining experience.
Albany, NY (PRWEB) January 12, 2012
Scrimshaw at The Desmond, the only AAA Four Diamond Award winning restaurant for three consecutive years in New York's Capital Region has recently introduced its newly renovated fine dining room and exquisite new menu. New Chef de Cuisine Stephen Fratianni and Scrimshaw Dining Room Manager Frank Rivera have teamed up to combine classic favorites with unique new menu offerings, including select table-side preparation to create a truly memorable and one of a kind fine dining experience.
In planning out their recent changes, Scrimshaw management consulted closely with some very well known and respected names in the restaurant and hospitality industry including Todd Kelly, the American Culinary Federation's 2011 USA Chef of the Year who assisted in the development of Scrimshaw's service plan, as well as Charles Redmond, Maitre D of Orchids at Hilton Cincinnati Netherland Plaza, which is rated a Top 25 Zagat Restaurant in the United States. With AAA Four Diamond Award Ratings in 2010, 2011 and 2012, Scrimshaw is known to consistently offer a distinct fine dining experience marked by high-quality ingredients, creative presentation, and attentive service.
"Scrimshaw has always been recognized as a restaurant that exceeds its guest's expectations in terms of quality and service," stated Frank Rivera, a New York City Native who was named Scrimshaw Dining Room Manager in August after spending several years with DZ Restaurants, based in Saratoga Springs, Del Frisco's Double Eagle Steak House in Rockefeller Center, O'Charley's, Inc., Uno Restaurant Holdings Corporation and Windows of the World Wine School where he received an invaluable foundation in wine and wine service from one of the industry's most recognized wine educators, Kevin Zraly. "The renovations in addition to our new menu items and continued exemplary service perfectly capture the overall essence of the complete and distinctive Scrimshaw dining experience."
Nestled conveniently at the luxurious Desmond Hotel in Albany, New York, which allows for easy access to Saratoga/Lake George, New York's Hudson Valley as well as Western Massachusetts, Scrimshaw's elegant dining room is rich in history and art featuring an abundant collection of scrimshaw, ship models, and paintings of sailing ships that evokes the grandeur of a sea captain's home. Fine crystal, elegant flatware, crisp linen, fresh flowers and candlelight are now presented within a lighter, brighter shade of wall paper under softer energy efficient lighting that further accentuate the room's traditional style. A new ceiling has greatly improved upon the acoustics resonating from Scrimshaw's magnificent Steinway grand piano, one of only two in the world, which helps make Scrimshaw a preferred destination for memorable romantic evenings, celebrations amongst family and friends, business dinners, tourists to the Capital Region or just a night on the town.
Scrimshaw's award-winning cuisine features classic entrées and favorites in addition to market fresh seafood offerings. Traditional favorites include Prime Rib, Veal Oscar, and Chateaubriand for Two prepared table-side. The monthly Chef de Cuisine's Market Seafood Menu changes based on the freshest catch each and every month. Select from Corn Husk Wrapped Halibut, Block Island Swordfish, or Blue Cornmeal Dusted Grouper. "What we've done is added unique and exciting new dishes to go along with our classic entrées which we feel has created a menu that is not only elegant and proven, but diverse in that there is no other like it in the area in terms of choice, preparation and quality, and of course taste," stated Chef de Cuisine, Stephen Fratianni.
About Scrimshaw Restaurant
This AAA Four Diamond upscale fine dining room located in Albany, New York debuted in 1979 and offers high-quality seasonal ingredients merged in a timeless preparation of classical continental cuisine. Scrimshaw features table-side prepared dishes and a carefully cultivated and extensive wine list. The culinary savvy and professional service staff and elegant décor will make your dining a memorable experience. In addition to the AAA Four Diamond rating, Scrimshaw is a recent recipient of the American Culinary Federation Achievement of Excellence Award and the Wine Spectator Award of Excellence.
Reservations are suggested. Hours: 5:30 pm Tuesday through Saturday. Closed on Sunday and Monday. Call 518-869-8100 for dinner reservations or book online at http://www.desmondhotels.com, or http://www.opentable.com.
About The Desmond
The Desmond Hotel is located in Albany, NY; this luxurious hotel offers colonial charm and contemporary comfort combined with a business friendly environment featuring state of the art conferencing facilities. For hotel information or to make a reservation, call 1-800-448-3500 or visit http://www.desmondhotelsalbany.com/.
About Millennium Business Communications
Millennium Business Communications is one of the capital region's premier, full-service advertising and marketing communications firms. Millennium has won several industry awards including Communicator Awards in the categories of Video, Web and Print Media, as well as a 2011 NORI Award in the category of Television Advertising. Millennium recently launched a new division called Binary Communications which is focused exclusively on mobile direct response marketing.a Visit Millennium at http://www.millenniumbc.net for more information.
###