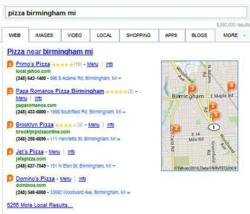 Our clients didn't think they had the time or money...until we taught them that the simplest way to ensure their listing position is also completely FREE." Dave Gonynor, President, That's Biz
Bloomfield Hills, MI (PRWEB) January 11, 2012
Top placement on search engines and review sites is an important marketing tool for restaurants but most restaurant owners have not cracked the code on how to ensure those prime postions.
That's Biz, a leading online restaurant marketing firm, introduces, Claim Your Places a free instructional document detailing a simple solution to get restaurants listed on the first page of search engines and review sites.
"Our clients kept asking us to help improve their listing positions" mentioned Dave Gonynor, president, That's Biz. "They didn't think they had the time or money to invest in getting that position until we taught them that the simplest way to ensure their listing position is also completely FREE."
Since it's a common issue with their restaurant clients, That's Biz developed the Claim Your Places document with easy instructions for restaurants to get listed on Google Places, Yelp, Urbanspoon, City Search and Trip Advisor. The instructions show how each site can be set up in about 5 minutes.
"The listings have been well received not only for their search engine placement but because our clients can list things that differentiate them and the listings are a great forum for customers to post reviews of the restaurants" noted Gonynor.
For the month of January, That's Biz is releasing the instructions to all restaurants that are interested in improving their listing position in 2012. It is as simple as clicking here for your free Claim Your Places instructional document.
About That's Biz:
That's Biz provides email marketing, Facebook marketing and online survey services for thousands of restaurant locations across North America. For more information visit us at http://www.thatsbiz.com/thatsbiz.
###