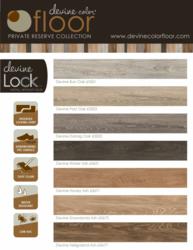 Beauty Underfoot
PORTLAND, OREGON (PRWEB) January 11, 2012
Devine Color Inc, the luxury paint company from the Pacific Northwest has expanded its color expertise into the next largest color item in the home – flooring. Gretchen Schauffler, founder and creator of Devine Color has partnered with MFlor, one of Europe's premier flooring manufacturers to curate a limited line of classic colors that give you high-wearing fashionable flooring and beauty underfoot.
The Devine Color Floor Private Reserve Collection of seven artistically selected colors in luxury vinyl planks ensure color confidence as well as ease of installation with the patented DevineLock installation system. The floating vinyl planks click together making complete home transformations easy and affordable.
The state of the art embossing system employed during the manufacturing process matches the grain and knots to create the most accurate simulation of wood made. Devine Color Flooring is dent, moisture and fire resistant, quieter than wood or laminates and fully recyclable making it an easy choice for any room in the home. The colors curated by Schauffler offer consumers a selection that will update and coordinate with any décor. Her color collections make past and present trends look current so design decisions are effortlessly personal and beautiful.
The Devine Color Floor Private Reserve Collection has been formally launched with the partnership of Wanke Cascade, a Northwest company with over 80 years of experience distributing the flooring industry's top products. Devine Color Floor will be available in retail stores across Oregon, Washington, Idaho, Alaska, Montana and Northern California.
Colors and installation specifications are available at http://www.devinecolorfloor.com
About Devine Color
Artist Gretchen Schauffler founded Devine in 2001 as an innovative, high quality interior paint line intended to take the guesswork out of choosing color. Today, her color cottage industry has grown to pioneer the concept of user-friendly online paint shopping and alternative distribution channels, including HSN. To assist consumers with daunting home color choices, Schauffler also created DevineCustom, a national network of color consultants, trained by Schauffler, who make custom house calls. As part of the Valspar Corporation, Devine Color benefits from the global footprint and research and development capabilities of one of the world's leading coating manufacturers. Today, Devine Color is available to consumers nationwide at the Devine Color website. Devinecolor.com
###