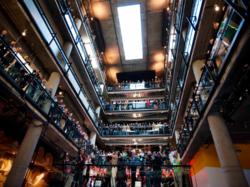 Acoustical Solutions listened to what we wanted... and were actually more affordable...
Richmond, VA (PRWEB) January 09, 2012
The world's largest social game developer, Zynga, moved their headquarters to new offices last year in the Soma neighborhood of San Francisco, California. Zynga is the creator of many popular online games such as FarmVille, Mafia Wars, and Words with Friends. These games have 232 million active users including 60 million daily active users. The next time you get an invitation to a 'Ville' on Facebook or see someone glued to their smartphone, there is good chance that a Zynga game is responsible.
Zynga's enormous headquarters employ over 1,500 people and provide many unique spaces for various employee use. These include relaxation lounges with Nintendo, arcade games, Xbox 360, and PlayStation 3 gaming systems, onsite massages, haircuts, reflexology and acupuncture, after hours bar, dining facilities, fitness centers, and daycare. "The whole purpose of the company is helping other people have fun. And if we're not having fun, I don't see how we can build games that are going to be fun," said Zynga employee Ken Rudin in an interview with ABC News. It was in this same building that Zynga executives remotely rang the NASDAQ opening bell last month, releasing an IPO of one billion dollars, the largest technology IPO since Google.
Whenever you have this many people in any enclosed space, you will more than likely run into issues with acoustics.
The interior of the new Zynga headquarters is cutting edge, eclectic, and fun with an industrial chic interior. This means a lot of concrete, hard walls, and no carpeting - a formula for a hefty reverberation time and low speech intelligibility. To put it in layman's terms, noise in these spaces would create an uncomfortable echo.
Contractor Mike Taylor from Peacock Construction was assigned the task of lowering the reverb time and creating a suitable acoustical environment for Zynga's many employees. Acoustical Solutions, Inc. provided over 175 Alphasorb fabric wrapped wall panels and cloud mount panels to acoustically treat 33 different rooms.
"We tried another company before Acoustical Solutions, but were not thrilled with the results. Acoustical Solutions listened to what we wanted, which was moveable acoustical treatments, and were actually more affordable than the first company," said Taylor. "We decided on the color Coin for the clouds and Eggshell for the wall panels, which looks great, and the sound in the rooms have definitely improved. My client is happy, and if they are happy then I am too".
About Acoustical Solutions, Inc.:
Since 1989 Acoustical Solutions, Inc. has provided the detailed expertise needed to serve the noise control community.
Acoustical Solutions, Inc. works with a wide variety of customers from commercial and residential development to worship facilities, recording studios and home theater designers. Acoustical Solutions, Inc. offers the industry's most comprehensive selection of noise control and soundproofing products, including a full line of indoor and outdoor industrial, commercial, environmental and architectural noise control products.
For more information please visit http://www.AcousticalSolutions.com, call 1-800-782-5742, or see our media kit.
# # #