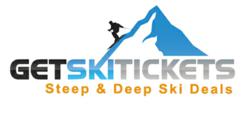 This is a great opportunity for us to promote Mammoth Mountain discount lift tickets to our clients
(PRWEB) January 09, 2012
GetSkiTickets.com, which is an online lift ticket vendor for skiing and snowboarding, announces new resort partnership with Mammoth Mountain Ski Area in Northern California. "Mammoth Mountain is one of those resorts that everyone knows about," says Heather Quinn, Co-Founder of GetSkiTickets.com. "This is a great opportunity for us to promote Mammoth Mountain discount lift tickets to our clients". GetSkiTickets.com is now working with resorts in Colorado, California, Utah, New Mexico and Canada. They partner directly with ski resorts to promote ski deals such as discount lift tickets, ski and snowboard equipment rentals along with lessons and season passes. The 2011 / 2012 ski season has been an interesting one for many resorts in the US. With unseasonably dry snow conditions, many resorts are partnering with companies such as GetSkiTickets.com to promote their on-mountain ski products which increases their exposure to eager skiers and riders. Skiers pursue good deals, especially if they're willing to ski non-optimal conditions. GetSkiTickets.com sells Mammoth Mountain lift ticket deals via its web site by promoting real-time rates that can be booked online in-advance.
GetSkiTickets.com operates similar to major travel entities such as Orbitz and Expedia. "We're an online marketplace specifically for lift tickets, rentals and lessons. We're a niche based company and our main focus is to get more people skiing and riding," Heather Quinn says. "We provide discount lift tickets to skiers and riders, but guests are not able to cancel their reservations. Once they're booked, it's non-refundable which guarantees resorts revenue and allows us to promote discounts."
GetSkiTickets.com started operations in 2008 as an affiliate marketing company promoting lift ticket deals for major online travel companies such as Travelocity, Orbitz and Expedia. Beginning in the 2011 / 2012 ski season, they began partnering direct with resorts so they can focus on resort partner acquisition along with customer retention programs. GetSkiTickets.com is located in Denver, Colorado.
###