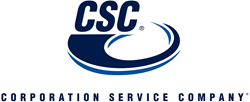 CSC has developed a powerful tool to help customers quickly and effortlessly manage compliance related to real estate documents.
Wilmington, DE (PRWEB) January 10, 2012
Corporation Service Company® (CSC®), a global leader in business and legal solutions, announces major enhancements to its real estate document preparation and recording services.
CSC is the only service provider to offer a seamless solution to help prepare and record post-closing commercial and residential real estate documents like mortgage satisfactions, assignments, and more in either electronic (E-recording) or paper format.
Through CSCFinancialOnline, CSC's Web-based UCC search, filing, and monitoring application, CSC customers can now prepare, record, and manage commercial real estate documents in any of the approximately 3,500 recording jurisdictions in the United States.
CSC's new commercial real estate recording wizard prompts customers to enter only the required data elements needed to prepare the recording in the selected jurisdiction(s). CSC will also ensure that margin and form requirements are met and calculate fees as needed so that customers no longer need to adjust to different and changing jurisdictional requirements.
"Before we launched this tool, our customers had to research different and often complex recording requirements for thousands of jurisdictions," says Mark Rosser, vice president with CSC. "Now, CSC can manage the burden of dealing with differing document requirements, changing fees, and the follow-up required to obtain a recorded copy."
Customers will also be able to submit recording requests electronically if the recording office accepts electronic requests. CSC offers E-recording services in more than 450 recording jurisdictions and is continually adding new county offices to its E-recording list.
The streamlined E-recording process can reduce typical recording turnaround times from weeks and months to as little as hours or minutes. Where E-recording is not available, CSC can still help customers submit hard-copy recording requests and track their life cycles through receipt of the recorded documents.
"The combination of our recording wizard and our paper and E-recording capabilities presents a complete solution for preparing, recording and tracking recording requests," Rosser says. "CSC has developed a powerful tool to help customers quickly and effortlessly manage compliance related to real estate documents. These efforts demonstrate our continuing investment in people and technology and our dedication to serving the UCC and real estate markets."
About CSC
Corporation Service Company (CSC), a privately held business and legal services organization, provides matter management, corporate compliance, and trustee services for companies and law firms worldwide; corporate identity protection services for top global brands; and due diligence and transactional services for the world's largest financial institutions. Founded in 1899, CSC has more than 1,100 employees throughout North America and Europe and is one of the largest registered agent service providers in the United States. To learn more about CSC, visit http://www.cscglobal.com.
###