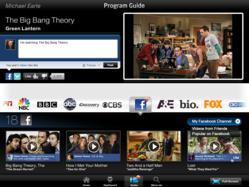 your Facebook friends program a TV channel for you
Denver, CO/Las Vegas, NV (PRWEB) January 10, 2012
aioTV announced today that it has extended Facebook integration delivering the most powerful yet simple to use implementation of Facebook video sharing.
Facebook users can login to aioTV using their Facebook credentials, share what they are watching with a single click and experience what is important to them with the Facebook Channel.
"The Facebook Channel is a video channel based upon what your friends are watching, essentially allowing your Facebook friends to program a TV channel for you." said Mike Earle, aioTV's CEO. "what makes it simple is our auto login with Facebook Connect and single click video share post that ultimately programs your Facebook Channel."
aioTV makes it easier to discover, experience and share online video on the devices that users want. Meet us at CES (provide a contact and use info@aio-tv.com).
About aioTV Inc.
aioTV Inc. is the leading OTT cloud video aggregation platform serving customers worldwide. The company's flagship product aioTV, is an enabling platform for service providers, consumer electronics manufactures and media companies designed to curate multiple sources of video content into a TV like experience for customers to enjoy on multiple devices. aioTV aggregates long form video content from the web (OTT) and licensed content (VOD, TV Everywhere VOD, even linear channels) into a user experience that looks like TV middleware and runs on iPad, Android tablets, PC, MAC, GoogleTV, iPhone, Android phones, Android set top boxes.
Press Contacts
aioTV Inc.
Jim Anderson
+ 1 (303) 482-1140
janderson(at)aio-tv(dot)com
###