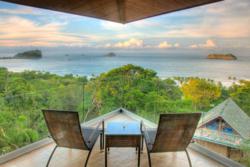 We are honored to have earned the distinction of the Americas' Best and look forward to the remainder of this incredible event.
Manuel Antonio, Costa Rica (PRWEB) January 10, 2012
Punto de Vista, an incomparable villa located in the heart of the Costa Rican rain forest, has been named as the Americas' Best in the recent Google and Bloomberg Television International Property Awards.
Throughout the Americas, architects were notified of their achievement in the region's most prestigious property competitions, the International Property Awards in association with Google and Bloomberg Television. Punto de Vista was ecstatic to learn that it was one of the companies being honored during this portion of the awards.
The award ceremony itself took place on December 12, in London. The setting for the 17th annual International Property Awards was the stunning Savoy Hotel. Throughout its nearly two decades, this event has become recognized for its singularly high standards of excellence. This portion of the awards featured architects and properties located throughout the Americas, pitting Punto de Vista against some of the strongest competition in the world. Attaining this coveted award is proof that Punto de Vista is not only capable of excelling over some of the most vaunted properties in the Americas, but is an incomparable destination in its own right.
From this point, the highest scoring properties will move up in the competition. Punto de Vista will now represent the Americas in the remainder of the International Property Awards in competition for the World's Best. Properties from around the world, including Arabia, Europe and the Asia Pacific region will vie to determine which is the best property in each of the event's categories, and Punto de Vista will be a part of that.
More than 80 industry professionals will judge the entrants. Each of the judges has immense knowledge and expertise in the property industry, and the experience of the combined panel surpasses any other awards ceremony. Notable judges for the event include David Dalby of the Royal Institute of Chartered Surveyors, James Bacon, UK Account Manager of Google, Peter Bolton King, Group Chief Executive of the National Federation of Property Professionals and Mike McNamara of the Royal Bank of Scotland.
David Konwiser, co-owner of Punto de Vista, said, "We are honored to have earned the distinction of the Americas' Best and look forward to the remainder of this incredible event."
To find out more about this incomparable destination set in the heart of paradise, visit http://www.PuntoDeVistaCR.com.
About Punto de Vista: Punto de Vista was designed to provide spacious luxury and the ultimate guest experience possible. Nestled in the heart of incredible Manual Antonio, Punto de Vista is an ideal location for luxury travelers, whether celebrating a wedding or seeking a corporate or group retreat.
###