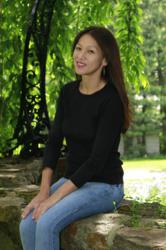 St. Louis, MO (PRWEB) January 10, 2012
The St. Louis County Library Foundation and Left Bank Books are pleased to present New York Times bestselling author Amy Chua for a discussion and signing of her book "Battle Hymn of the Tiger Mother" on Thursday, February 9, at 7:00 p.m. at Library Headquarters, 1640 S. Lindbergh Blvd. The program is free and open to the public. Books will be available for purchase at the event from Left Bank Books.
When "Battle Hymn of the Tiger Mother," Amy Chua's witty and provocative memoir in extreme parenting, published last year, it ignited a firestorm of debate across the nation. In the media and at coffee shops and playgrounds everywhere, critics and supporters weighed in on Amy's iron-willed embrace of Chinese parenting. Unlike your typical Western parents, who stress individuality and strive to create a nurturing environment, the Chinese believe you must prepare your children for the future by arming them with skills, strong work habits, and inner confidence. Now available in paperback, "Battle Hymn of the Tiger Mother" is ultimately the story of a mother's hopes for her daughters and the risks she is willing to take to invest in their future.
With remarkable honesty and a biting sense of humor, Amy chronicles her family's experiences: the constant drills, the endless piano and violin practice, the competitions, and the many sacrifices. In many ways the Chinese-parenting model produces awe-inspiring results. Chua's daughters are fantastic students, have exceptional musical abilities, and are polite, interesting, and extremely likeable. But there is one wrench in the works: while Sophia flourishes under Amy's exacting parenting, Lulu, strong-willed and fiery, rebels—threatening to upend all of her mother's carefully laid plans.
Amy struggles to find a balance between her dreams for her children and letting them succeed on their own terms—and she is far from perfect. But in her devotion to her children, the depth of her love for them becomes clear. A rare and very entertaining look inside a family, "Battle Hymn of the Tiger Mother" is an eye-opening exploration of the differences in Asian and Western parenting—and the lessons parents and children everywhere teach each other.
Amy Chua is the John M. Duff Professor of Law at Yale Law School. Her first book, "World on Fire: How Exporting Free Market Democracy Breeds Ethnic Hatred and Global Instability," a New York Times bestseller, was selected by The Economist as one of the best books of 2003. Her second book, "Day of Empire: How Hyperpowers Rise to Global Dominance—and Why They Fall," was a critically acclaimed Foreign Affairs bestseller.
Program sites are accessible. Upon two weeks notice, accommodations will be made
for persons with disabilities. Contact St. Louis County Library by phone 314-994-3300 or visit http://www.slcl.org.
###