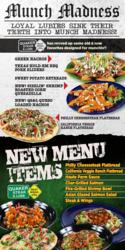 Sharon, PA (PRWEB) January 09, 2012
Quaker Steak & Lube®, known for its Best Wings USA and over 20 sauce varieties, will be rolling out a new menu on January 10, 2012. The new menus will be appearing in all of the award-winning casual-dining concept's restaurants now open in fifteen US states. Highlights of the new menu include the following Shrimp and Salmon features: Pan Asian Salmon Bowl, Asian Glazed Salmon Salad, Sizzlin' Shrimp Roasted Corn Quesadilla, and Char Grilled Salmon. Additionally, the brand is launching its new appetizer size flatbreads.
In addition to the new menu The Lube®'s first of three annual limited time offers will also launch January 10, 2012. Themed "Munch Madness", this limited time menu features appetizers to sink your teeth into and "7 Wonders of The Lube®" - seven rounds of thirst quenchers for the 21+ crowd. One of The Lube®'s "7 Wonders" is the Cheer's Magazine Award Winning Bar Jars, savor the beverage inside and keep the glass! Diners will find old and new favorites on the limited time "Munch Madness" menu, featuring delicious edibles like Sweet Potato Retreads, Texas Hold-Ems BBQ Pork Sliders, Greek Nachos, and QS&L Queso Loaded Nachos.
For more information about Quaker Steak & Lube®, please visit quakersteakandlube.com.
About Quaker Steak & Lube®:
Founded in 1974 and built in an abandoned gas station in Sharon, Pa., the original Quaker Steak & Lube® began as a cook-your-own steak restaurant, before expanding to over 40 locations throughout the United States and Canada. The unique décor, including race cars suspended from the ceilings, motorcycles, Corvettes and gas station memorabilia, combined with the crave-able food and high-octane events, has afforded The Lube® a cult-like fan following. Today, Quaker Steak & Lube® has become one of the fastest-growing restaurant chains in the country and has won hundreds of national and international awards for its wings and over 20 different wing sauces. Most recently, it was named the 2010 Festival Favorite at the National Buffalo Wing Festival in Buffalo, New York. For more information, visit http://www.quakersteakandlube.com
###