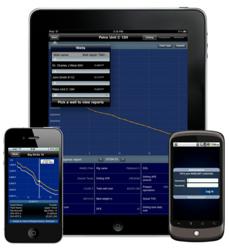 Oil and gas professionals are moving away from laptops and adopting mobile technology for almost every aspect of their business
Houston, Texas (PRWEB) January 17, 2012
WellEz announces the second version of its popular mobile reporting application, WellEz Mobile. The new release offers advanced graphing capabilities, the ability to track drilling, completion, and workover jobs, and a high-resolution, iPad-native option.
The new application features an impressive collection of new graphing reports, automatically generated and updated instantly. Users can quickly view Days vs. Depth, Depth vs. Cost, Mud Weight vs. Depth, and Days vs. Costs graphs. During the completion and workover phase of the well lifecycle, the graphing portion is hidden and more operations detail is shown.
"Oil and gas professionals are moving away from laptops and adopting mobile technology for almost every aspect of their business," said James Morley, Client Relations Director at WellEz Information Management. "The second iteration of WellEz Mobile was designed with this in mind; it allows almost any detail from the wellsite to be viewed from anywhere."
Following the success of the iOS version of WellEz Mobile, WellEz has started work on the Android-based version of WellEz Mobile. The Android version, compatible with most Android phones and tablets, will be released in early 2012.
WellEz Mobile is available for download for free from the iTunes app store. Users must be subscribed and have valid WellEz login credentials.
About WellEz
Founded in 2000, WellEz Information Management is a privately held, international oilfield service company located in Houston, Texas. The leading provider of field reporting tools for drilling, completions, and other operations, WellEz is staffed by experienced oil and gas professionals and a team of highly qualified software developers. The company's web‐based field software for well lifecycle reporting is the comprehensive solution to limitations, user difficulties, and support issues that are often encountered with traditional reporting software. For more information, visit our website.
###