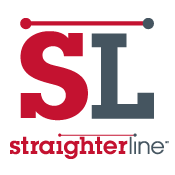 Baltimore, MD (PRWEB) January 10, 2012
StraighterLine (StraighterLine.com) announced today that students looking to study business in college can now get a jump start on their business degree with their newest offering. The Business Course Bundle provides students with access to four business courses that are part of the foundation of any business degree program. The bundled business courses include: Introduction to Business, Business Communication, Accounting I and Economics I: Macroeconomics. These courses are being offered at a 25% savings off their regular price if purchased separately. Students who enroll in the bundle will be taking advantage of StraighterLine's "College for $99/month" subscription but getting additional savings by purchasing all the courses together. StraighterLine's extremely flexible and affordable online college courses allow students to save up to 90% on the cost of traditional college classes and make it easy for non-traditional students to take real college courses. Course credits transfer to any of StraighterLine's partner colleges or through the ACE Credit service.
"Students who want to study business are just like most other students who want to save some money," says Josef Katz, Vice President of Marketing. "By bundling these courses together we are providing students with additional ways to cut the cost of their college degree."
Currently, StraighterLine offers thirty one entry-level college courses online, including College Algebra, Precalculus, Calculus I, Calculus II, Business Communication, Introduction to Biology, Introduction to Biology with lab, General Chemistry I, General Chemistry I with lab, English Comp I, English Comp II, Accounting I, Accounting II, Managerial Accounting, Macroeconomics, Microeconomics, Business Statistics, Anatomy & Physiology I & II, each with a lab option, Medical Terminology, Psychology, Introduction to Business, Introduction to Criminal Justice, Introduction to Nutrition, Introduction to Sociology, Western Civilization I, Personal Finance, Pharmacology I, Pharmacology II and two developmental courses .
StraighterLine partner colleges and universities include the following institutions:
Albany State University
American College of Dubai
American InterContinental University
Ashford University
Assumption College
Capella University
Charter Oak State College
Colorado State University-Global Campus
DeVry University
Excelsior College
Florida Gateway College
Granite State College
Jefferson Community and Technical College
Kaplan University
LaSalle University
Nazarene Bible College
New England College of Business
Potomac College
Thomas Edison State College
Thompson Rivers University
University of the Incarnate Word
University of Phoenix
Western Governors University
WGU Indiana
WGU Texas
WGU Washington
About StraighterLine
StraighterLine has been recognized as a revolutionizing force in education by major news organizations and the U.S. Chamber of Commerce for offering students online courses that earn real college credit for just $99 a month. Fast Company named StraighterLine one of the "10 Most Innovative Companies in Education."
In order to facilitate the award of credit, StraighterLine has forged partnerships with leading accredited online colleges and universities. A student ultimately earns a degree from those institutions but realizes tremendous savings and convenience by starting with StraighterLine.
StraighterLine's courses are evaluated and recommended by the American Council on Education's College Credit Recommendation Service (ACE CREDIT). In addition to the institutions with which StraighterLine has a direct relationship, more than 200 other schools are reported to have accepted StraighterLine coursework for transfer credit.
Currently, StraighterLine offers 31 entry-level college courses online in the Sciences, Humanities, English, Math and Business.
For information, visit StraighterLine.com or call 202-507-7020 or 1-877-str8erline (1-877-787-8375).
###