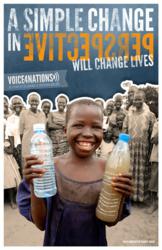 "Success is more than a privilege, it is a responsibility," states Jay Reeder, founder of Voice4Nations.
Buford, GA (PRWEB) January 11, 2012
Voice4Nations announces its launch as an inspiring non-profit outreach dedicated to transforming the world's perspective on today's global issues. The organization was set in motion to empower individuals and businesses with not just information, but with a solution.
Rather than just making contributions to aid in ending the harsh realities of the world's global issues, Voice4Nations is committed to being an advocate for those without a voice. Through interactive channels of media, social network marketing, mobile apps and advanced B2B marketing, Voice4Nations is connecting with business influencers and encouraging them to become a resource for those less fortunate. This innovative method of communicating these issues will convey the message in such a way that previously did not exist in the business sector.
"Success is more than a privilege, it is a responsibility. At Voice4Nations, we feel it our responsibility to use the platform given to us as an opportunity to help others," states Jay Reeder, founder of Voice4Nations. "We want individuals to understand the amount of influence and power they have in helping to change the world."
There is a desperate need to end famine, poverty and disease in today's "out of balance" world. According to UNICEF, 22,000 children die each day due to poverty. And they "die quietly in some of the poorest villages on earth, far removed from the scrutiny and the conscience of the world. Being meek and weak in life makes these dying multitudes even more invisible in death."
Rather than imaging a better world, it is Voice4Nations' goal to empower others to create one.
For Voice4Nations official press information, including press kit download, and all forms of media, including public awareness video, visit http://voice4nations.org/content/press.
About Voice4Nations:
Voice4Nations is a non-profit charitable outreach program that acts as a voice for the nations; a voice for those who can't speak for themselves, like the millions of children worldwide who live in poverty. Our goal is to create awareness by changing perspectives, encouraging people to make a difference, and connecting them with successful organizations where they can directly make a contribution to help fund the need. Voice4Nations was launched with resources provided by VoiceNation, the leading telecommunications company providing virtual receptionist and live answering services. Voice4Nations is completely funded by private donors and our organization does not solicit donations. To learn more about Voice4Nations, please visit http://voice4nations.org/.
For more information, contact:
Ashley Pardue
Media Relations
1.866.766.5050, ext. 107
# # #