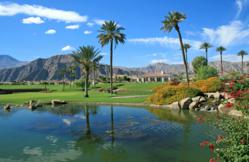 the sellers agents job is to get their seller the most money and best terms possible
La Quinta, California (PRWEB) January 11, 2012
Sheri Dettman, Principal Realtor of Sheri Dettman & Associates in La Quinta and the number one realtor associated with Keller Williams Realty in the Palm Springs Real Estate Market, announced today significantly reduced membership costs at a number of popular private golf and country clubs.
The buyer's market in Palm Springs real estate has recently extended to membership initiation fees in a number of area private golf and country clubs. About a dozen private and semi-private golf and country clubs in the Palm Springs area have dramatically lowered and even eliminated fees to join their clubs.
"Each private club wants to keep its membership ranks as full as possible," said Sheri. "And it's often a balancing act in adjusting prices to meet market conditions. The good news for home buyers interested in joining a golf and/or country club is that there are some very attractive pricing incentives at some of the most popular private clubs in the desert."
PGA West in La Quinta recently lowered golf memberships from $125,000 to just $45,000. The Citrus Golf Club, which also located in La Quinta, now offers $30,000 memberships compared to $100,000 last year.
Non-golfers can also take advantage of lower costs to join these private clubs as social and/or fitness members. These memberships allow use of each club's facilities with the exception - usually - of golf. As an example, La Quinta Resort and Club is offering social/fitness memberships that previously cost $15,000 for only $5,000. These memberships include access to the resorts two golf courses at discounted rates.
Other price incentives include Monterey Country Club in Palm Desert, which recently eliminated its $5,000 membership fee and Tradition Golf Club, an exclusive private club in La Quinta, which is now offering 'market pricing' for its memberships instead of a traditional set cost, currently posted at $200,000.
While most of the new lower membership costs at clubs will continue until further notice, a few clubs are offering limited time membership specials. Indian Ridge Country Club in Palm Desert, home of two championship golf courses, is promoting a $69,500 membership until March 30th when it reverts back to $110,000.
Rancho La Quinta Country Club is offering a $110,000 family golf membership with a five-year payment plan and no interest. Prospective members there can also opt for a trial membership for one year by simply paying one year's golf dues in advance. Those dues can then be applied towards membership.
"The once in a decade opportunities that we have been seeing in Palm Springs area real estate are now becoming available for golf and country club memberships," said Sheri. "The new lower prices have been attracting a growing number of new members."
About a dozen other clubs with memberships initiation fees ranging from $5,000 to $200,000 also announced lower golf memberships. Further details were recently posted on Sheri Dettman & Associates Palm Springs real estate blog.
About Sheri Dettman & Associates
Sheri Dettman & Associates is associated with Luxury Homes by Keller Williams Realty, the second largest residential realty company in North America. Sheri heads the number one Keller Williams Realty team in the desert out of over 400 agents and ranks as the number one individual agent there associated with Keller Williams Realty.
###