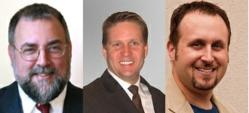 Entrepreneurs often focus on things like technology, legal issues, and finance – all of which are important. Finding the right people to work with is essential, which is why we're holding 'People for Entrepreneurs.'
Langhorne, PA (PRWEB) January 09, 2012
Entrepreneurs seeking to learn more about choosing co-founders and hiring the right team players will not want to miss the Novotorium program "People for Entrepreneurs," to be held at 6 p.m., Wednesday, January 18. Likewise, those interested in incorporating game strategies into online business and marketing, will enjoy "Gamification + Libation = Gratification," to be held at 6 p.m., Thursday, January 19, according to Mike Krupit, who heads up Novotorium.
"Entrepreneurs often focus on things like technology, legal issues, and finance – all of which are important. Finding the right people to work with is essential, which is why we're holding 'People for Entrepreneurs,' " said Krupit. "Our second featured program, 'Gamification plus Libation equals Gratification,' will touch on business and technology issues, but it is primarily about engaging people through game approaches."
The Wednesday evening program will feature a presentation by Mark Talaba of The Gabriel Institute, an innovative company that has developed the technology of teaming, and a panel discussion of entrepreneurs led by Culin Tate from CoFoundersLab, a website that offers matchmaking for entrepreneurs. The Thursday evening program will feature a presentation by Joe Cotellese from myYearbook.com, followed by an evening of game play with favorites of entrepreneurs like Settlers of Catan and Texas Holdem.
These two programs complement a lineup of classes, networking opportunities and collaborative work sessions during Occupy Novotorium, a week of innovative activities to be held January 16-20, 2012, at Novotorium headquarters in Langhorne PA. All programs are offered free, but registration is required at novotorium.com/occupy-novotorium. Classes include:

Monday, January 16: Email-Marketing Essentials: 5 Secrets to Email-Marketing Success. Presented by Mitch Lapides, FulcrumTech, noon to 1:30 p.m.
Tuesday, January 17: Bootstrapping and Turning Obstacles into Opportunities. Presented by Joe Cellucci, Enable Consulting, and David Sorin, Management Mpowerment, 3:30 to 5:00 p.m.
Wednesday, January 18: Search Marketing Basics: What Start Ups Need To Consider for SEO, PPC & Analytics. Presented by Jessica Hill, Rachael Gerson, Bonnie Schwartz, SEER Interactive, 3:30 to 5:00 p.m.
Thursday, January 19: Beyond the Non-Disclosure Agreement: Legal Issues in an Open Environment. Presented by Fred Wilf, Baer Crossey, 4:00 to 5:30 p.m.
Friday, January 20: Finance for Entrepreneurs, Startups, and Emerging Companies. Presented by Jay Smith, Eisner Amper, 9:00 to 10:30 a.m.
Complete details about these events and classes can be found at novotorium.com/occupy-novotorium. In addition, entrepreneurs may also register to receive up to five days of free business support services, including: workspace, internet access, individualized mentorship and guidance from Novotorium staff and partners, food and amenities (including use of the gym and napping pod), and access to all events and classes.
In addition, Novotorium partners who will hold office hours to provide one-on-one advice for registered entrepreneurs are: Chariot Solutions (technology), Paul Clough (strategy), Dan Jones (finance), Alan Lipoff (accounting), Sam Liss (marketing), Jeff Moskovitz (finance), Irv Safra (entrepreneur), Rick Simmons (marketing), Frank Taney (legal), and Geoff Weber (legal).
"This is an opportunity unprecedented in the Philadelphia region – and perhaps anywhere," said Krupit. "It's a full-week of immersion in a collaborative entrepreneurial experience with real benefits for all who participate. We expect to be at capacity for every part of the week, so we encourage people to apply and register right away."
About Novotorium:
Novotorium is an independent, private sector initiative funded by the Baron Innovation Group, and based in Langhorne, Bucks County, Pennsylvania. Novotorium provides the environment, advice, services, and funding that are needed for entrepreneurs who strive to accelerate their emerging companies. Novotorium's unique approach helps entrepreneurs cross the chasm to achieve sustainable growth and profitability. For more information about Novotorium visit http://www.novotorium.com.
# # #