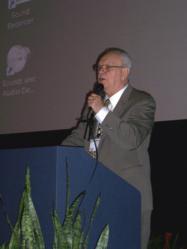 U.S. Ag Associates brings people together to discuss the changing problems growers are facing in their fields.
Houston, TX (PRWEB) January 10, 2012
New research from Iowa State University announced substantial yield increases on corn and soybean research plots in Ames, Iowa. A total of three soybean and corn research plots, established by researchers from Iowa State and Stoller representatives, were designed to test the yield impact of Stoller product applications.
The study revealed yield increases up to 9 bu/acre on soybeans and 22 bu/acre on corn. University researchers from Iowa State utilized Stoller's Bio-Forge® and X-Tra Power™ to advance the study of how to manage crop stress and improve yields of row crops. Tested and validated at over 50 universities nationwide, Stoller's Bio-Forge® has proven to manage plant growth hormones to an optimal level—thus increasing root mass, plant health and yields.
"StollerUSA maintains strong relationships with many universities to validate the efficacy of our current products and to accelerate the development of new technologies and products." shared Wayne Smith, General Manager at StollerUSA. "Growers want proof that our products perform. By working with Universities we have the validity of scientific research. By working with farmers across the nation we demonstrate proven performance under real world conditions with the pressures of mother nature and ROI calculations."
In addition to the findings from the Iowa State research, University and field trial results from across the world will be presented at the US Ag Conference in January 2012, which has 130 registrants. Now in its 19th year the US Ag Conference, held in Houston Texas, is an information and idea-sharing gathering sponsored by Stoller Enterprises, Inc.
This year's preliminary Conference Agenda includes presentations by university researchers from Penn State, North Carolina State, University of Florida and University of Illinois as well as researchers from Canada, Peru, Brazil and Australia. A total of more than fifty presenters will share their thoughts, ideas and findings to advance agriculture. Climate challenges and population growth fuels the US Ag Conference's quest to discover new and more efficient ways to increase yields while controlling costs.
"U.S. Ag Associates Conference brings people together to discuss the changing problems growers are facing in their fields," states Jerry Stoller, Founder and CEO of StollerUSA. "I arranged this conference to share research and ideas to better understand crops and the importance of learning from those around you. It's a unique opportunity … a farmer in Ohio has the ability to take something discovered in Brazil or elsewhere in the world and apply it to his own row crops or vice versa."
To learn more about the 19th Annual U.S. Ag Associates Conference and view a full agenda for this year's presentations visit http://www.usagconference.com.
Think Different
The Stoller Group is dedicated to "thinking different". The future of crop production isn't endless irrigation and fertilizer additions. The future of crop production is giving the plant the ability to protect itself against diseases and insects and grow normally even under climatic stresses. New technology from Stoller is enabling that future-today. It's part of how we're thinking differently about crop production. Let the plant do it. Learn more at http://www.AdvancingAG.com.
StollerUSA is dedicated to helping producers enhance yields by maximizing genetic expression. The result is enhanced marketable yield, improved return-on-investment and improved tolerance to disease and other stress. Only Stoller products contain Stoller's proprietary technology that is proven to ensure optimum plant growth by maintaining appropriate hormone balance in combination with supporting nutrients. Validated by Universities nationwide, Stoller's unique formulations result in healthier, more productive crops that are better able to withstand stress and achieve their full genetic potential.
About StollerUSA
Celebrating over 41 years in agribusiness, StollerUSA markets a full line of products to help farmers increase crop yield and quality. StollerUSA, headquartered in Houston, is actively engaged in basic and practical research to enhance crop productivity in more than 50 countries.
###