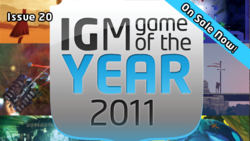 Wilmington, DE (PRWEB) January 10, 2012
The Indie Game Magazine (http://www.indiegamemag.com), the premier source of independent gaming news, reviews and culture, has just announced the best independent games of 2011 in its landmark 20th issue.
This issue announces all of the winners and covers the best independent video games of 2011 as decided by their reader poll and editors' opinions. Their huge readers choice article also takes a look at all the highly anticipated indie games of 2012 and previews the best games coming out this next year. Other articles include a look at the Humble Bundle, Java4k, A Teen's experience with XBLIG and more. IGM also reviews a ton of award nominees including Bastion, Stealth Bastard, Minecraft, Insanely Twisted Shadow Planet, and Dungeon Defenders. Grab it now at http://www.indiegamemag.com/issue20/ !
In other indie game magazine news, IGM is happy to announce that over the holidays our website has increased its traffic by over 135% this past month. Indie Game Magazine looks forward to carrying this momentum into next year with some exciting new ventures, announcements and promotions.
IGM is available for single purchase as well as via subscription in both print and digital formats, as well as the iPhone and iPad. Our iPhone app is only $0.99 and now features embedded videos featuring indie game reviews, developer interviews and more. Check it out in the App Store: http://www.bit.ly/igmapp
Android users, check out our Zinio subscription and App: http://www.zinio.com/indiegamemag/
ABOUT IGM:
Indie Game Magazine (http://www.indiegamemag.com) is the premier source of news and culture for the independent gaming. Started in October 2008 and published bi-monthly by Mike Gnade, IGM has matured into a definitive voice for the indie gaming scene. Combining no-nonsense reviews, in-depth reviews and long-form features with the leading lights of the industry, the magazine, like the games it covers, is independently owned and fiercely independent as it strives to highlight the artists and community behind what it deems the most creative branch of the video gaming universe.
Media Contact:
Mike Gnade
Indie Game Magazine
staff(at)indiegamemag(dot)com
302.766.7955
###