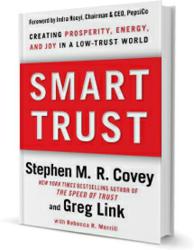 "…companies move faster, make better decisions, and deliver quality to customers…That's why we've turned to Stephen M. R. Covey to help us train more than 100,000 AT&T managers, and why I recommend 'Smart Trust'. Randall Stephenson, CEO, AT&T
New York, New York (PRWEB) January 10, 2012
Stephen M. R. Covey established the global relevance of trust in 2006 with his New York Times and Wall Street Journal bestseller The Speed of Trust, which sold more than one million copies in 22 languages. Now Covey again illuminates the hidden power of trust to change lives and impact organizations in SMART TRUST: Creating Prosperity, Energy, and Joy in a Low-Trust World (Free Press) on sale today, which shows how leaders and organizations are using high-trust relationships to achieve success, even in an era of record low trust.
In a compelling and readable style, he and long-time business partner, Greg Link, share enlightening principles and anecdotes of numerous "outliers" of success from people and organizations that are not only achieving unprecedented prosperity from high trust relationships and cultures but—even more inspiring—are also attaining elevated levels of energy and joy. "In today's networked world, trust has become the new currency—the critical competency for individuals, teams, organizations and even countries," write Covey and Link.
SMART TRUST arrives at a crucial moment, in the midst of a global crisis of trust. At a 2008 World Economic Forum in China attended by the authors, over 1500 senior business and government leaders from more than 90 nations surprisingly identified the #1 challenge to world economic growth for the coming year 2009 as the loss of confidence and trust. What made this selection remarkable was that the conference convened on the very weekend the U.S. Congress and other government leaders around the world were meeting to determine a response to the collapse of Lehman Brothers that triggered the global financial crisis. The authors offer compelling and insightful discussion as to why loss of trust, rather than the financial crisis, was picked as the biggest impediment to the economy.
SMART TRUST has met the strict scrutiny of leaders around the globe and is validated by research from multiple sources that confirms that high-trust organizations outperform low-trust organizations by nearly three times. Indra Nooyi, Chairman & CEO of PepsiCo, says in her foreword: "We can indeed convert this crisis of trust into a great opportunity, what Stephen and Greg call a 'renaissance of trust.' When we do this well, we can minimize risk while maximizing possibilities. To do that, each one of us needs to start with our own behavior." Randall Stephenson, Chairman, President, and CEO of AT&T says of SMART TRUST: "Their approach helps companies move faster, make better decisions, and deliver quality to customers; it can also help transform a corporate culture. That's why we've turned to Stephen M. R. Covey to help us train more than 100,000 AT&T managers, and why I recommend 'Smart Trust' to anyone trying to succeed in today's fast-paced, global business environment."
In SMART TRUST, Covey and Link provide a lens to see how trust issues impact every situation, and how you can cut through traditional either/or thinking to extend what they call Smart Trust, enabling you to operate with high trust in a low trust world.
They offer numerous examples from around the globe—including a revealing account with Steve Jobs—of individuals, teams, organizations, markets, and industries that have created cultures and relationships of high trust and are enjoying remarkable results. The sustainable success these leaders and enterprises are exhibiting is paradoxically being produced in what has proved to be the lowest trust climate in years, if not decades. SMART TRUST shows what they are doing and the 5 actions they are commonly taking to prosper, against the odds, in the same circumstances causing so many others to fail. These same 5 actions of high trust leaders provide great criteria to assess the credibility of political candidates.
Covey and Link combine the lessons drawn from those examples with compelling research and their own penetrating insights, illuminated by their unique access to many of the world's most successful leaders and organizations, and lay out a breakthrough, proven process for creating optimal trust relationships.
"It's our hope that this book will help you develop the judgment to recognize and extend Smart Trust deliberately," write Covey and Link, "so you can enjoy greater prosperity, energy, and joy in all dimensions of life—to the ultimate end that together we might increase trust, and the benefits of trust, throughout the world."
The authors are broadcasting a live interactive webcast on January 12th to further inform and take town hall questions from readers.
About the authors
Stephen M. R. Covey is cofounder of CoveyLink and The Global Speed of Trust Practice. A sought-after speaker and advisor on trust, leadership, ethics, sales, and high performance, he speaks around the world. He is the New York Times and #1 Wall Street Journal bestselling author of The Speed of Trust: The One Thing That Changes Everything. He is the former CEO of Covey Leadership Center, which, under his stewardship, became the largest leadership development company in the world and today, as FranklinCovey, teaches trust in more than 100 countries.
Greg Link is cofounder of CoveyLink, The Global Speed of Trust Practice, and the former Covey Leadership Center. A trusted executive confidant, advisor, and compelling speaker, Link is a recognized authority on trust, leadership, sales, marketing, and high performance. He led the strategy that propelled Covey's father's book, The 7 Habits of Highly Effective People, to be one of the two most influential business books of the 20th century.
###