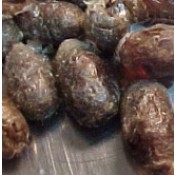 Clarence, NY (PRWEB) January 17, 2012
Mason bees are amazing and USABirdsupply.com sells live mason bee pupal cases or cocoons that are stored and then hatch in the spring. All that is needed is a mason bee house and mason bee cocoons. There is no upkeep thereafter unlike honey bees. Plus, they are better pollinators than honey bees for some crops.
A honey bee pollinates 5% of the flowers it visits, while the mason bee pollinates 97% and can visit twice as many flowers. They can pollinate in cool, drizzly weather while honey bees remain inside the hive. Backyard orchards with a few dozen trees can be pollinated with 50 female mason bees or less.
Mason bees are considered "solitary" bees because they do not live in colonies, have a queen or produce honey or wax and are relatively docile. Each female builds a cell nest by herself so there is no colony; however, they like to build their nest cells together. They very rarely sting as they are not like honey bees that are territorial, share labor, defend their hive, queen, young bees or honey nor attack in mass. Mason bees do not produce honey or wax.
Honey bees have suffered from colony collapse disorder the last five years (affecting 30%+)which has not affected mason bees. Plus, two mites that have affected honey bees have had no effect on native mason bees that have a natural resistance to some mites and molds. They are immune from attack from Africanized honey bees (killer bees) as they do not produce honey. The Osmia Lignaria mason bee is a spring bee while the Osmia Californica mason bee is a late spring bee and is shipped only west of the Mississippi River. Mason bees can supplement European honey bee pollination.
Mason bees are therefore perfect to pollinate fruit trees, flowers and vegetables as they require no upkeep and rarely, if ever, sting. To start, it is recommended that you get the Orchard Mason Bee book by Brian Griffin, a house (such as the Beediverse Mason Bee Chalet with a predator guard), and live bee larvae (comes in a box which in the spring you tape to the house).
The males will hatch first, then the females. After mating, the males die and the female then will enter the house, provide a ball of pollen and nectar and lay an egg on the ball in each cell. She then seals it with mud and proceeds to do it again until she reaches the end of the tube. Female eggs are laid toward the back of the cell while males are laid toward the front. Each female will make between 4 and 6 cells. The larvae develop and emerge as adults the following spring when the temperature reaches 57 degrees F. If, for some reason, it is an exceedingly dry spring, providing some mud would be helpful.
Mason bee house placement should ideally be on the south or east side of a structure under the eaves that get morning sun. Do not put the house in the open or under a tree. There should be flowers (fruit trees, flowers, vegetables) within 600 feet of the house. Mason bees prefer the pollen of cherries, apples, plums, pears, stone fruits, roses, rosemary, garden kale, and lacy phacelia.
When you get your box of bee larvae, refrigerate them until spring until about 3 days before your trees, plants and vegetables bloom. The larvae box gets taped to the top of the mason bee house (open one end) but they will burrow out—do not put the larvae in the tubes.
In the fall, if you live in a cooler climate, bring the nesting box inside, place it in a cardboard box with a damp paper towel (the house should not have direct contact with the paper towel) and store in the refrigerator. Keep above freezing temperatures . The adults in the larvae stay dormant (similar to hibernation) during the winter.
USABirdSupply.com is Located in Clarence, NY Outside Buffalo And Offers Over 1100 Bird Products Including Squirrel Proof Feeders, Hummingbird Feeders, Purple Martin Houses & Gourds, Bird Feeders, Bird Houses, Bird Baths, Garden Art, Bat & Owl Houses, Garden Flags, Butterfly Feeders, Live Mason Bees, and Honey Bee Supplies.
###