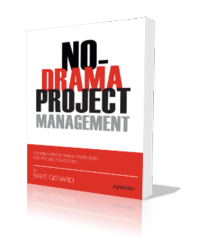 "It's important for project managers to avoid predictable mistakes so that they can focus on the inevitable unpredictable challenges that should demand most of their attention."-author Bart Gerardi
New York, NY (PRWEB) January 10, 2012
Famed management guru Peter Drucker remarked decades ago that chaotic workplaces usually reflected poorly run companies, while calm workplaces reflected well-run, profitable companies. Likewise, says Bart Gerardi, author of the new book "No Drama Project Management: Avoiding Predictable Problems for Project Success," one of the hallmarks of a productive project is its lack of drama, fear, and anxiety.
As veteran program manager Gerardi often points out in "No-Drama Project Management," most of the mistakes that cause turbulence in a project are avoidable. "It's important," says Gerardi, "for project managers to avoid predictable mistakes so that they can focus on the inevitable unpredictable challenges that should demand most of their attention."
"No-Drama Project Management" provides advice and insights regarding the skills that, when performed well, ensure projects reach their goals. These skills form the basics of good project management and include: identifying requirements, prioritizing tasks and goals, testing assumptions, aligning with client needs, developing sound plans, and communicating effectively. "Having a project crash and burn is never a great situation," Gerardi explains, "but it's not a career buster—unless the failure appears on the short list of recurring, avoidable problems that can and will pop up during any project."
Gerardi's advice is based on practical knowledge and hands-on experience. "No-Drama Project Management" is filled with stories of lessons he personally learned on the job—often the hard way. So this book is not just for rookies—it's also for project managers who have been around the block a few times who will find knowledge and tips that can help them reignite a stalled or meandering career.
There are plenty of books about the science of project management that cover such things as creating a work-breakdown structure or a Gantt chart. "No-Drama Project Management" is about the art of project management. It contains methods and techniques—illustrated with stories from Gerardi's rich bank of experiences that will help managers shine and become promotable. Project managers who buy this book—whether they are IT professionals, contractors, R&D specialists, or those in any other field—will learn to avoid the kinds of problems that will get them fired, so they can keep projects on track by managing the "known unknowns."
To learn more about "No-Drama Project Management: Avoiding Predictable Problems for Project Success," visit http://www.apress.com/9781430239901
No-Drama Project Management: Avoiding Predictable Problems for Project Success

ISBN13: 978-1-4302-3990-1
264 Pages
Publication Date: December 14, 2011
Available eBook Formats: EPUB, MOBI, PDF
Print book: $24.99
eBook: $17.49
About Bart Gerardi
Bart Gerardi is a program manager for an e-commerce company. He has been a consultant, manager, and leader for 15 years. Mr. Gerardi's love of bringing projects to market has spanned several companies, positions, and waves of Internet fads. Always on the lookout for new projects to run, he also manages the delivery of several teams bringing the next generation of e-commerce to the industry.
About Apress Media
Apress Media LLC is a technical and business publisher devoted to meeting the needs of IT professionals, software developers, programmers, and business leaders with more than 1,000 books in print and electronic formats. Apress provides high-quality, no-fluff content that helps serious technology professionals build a comprehensive pathway to career success. For more information about the innovative approach Apress takes to publishing, please visit http://www.apress.com.
###