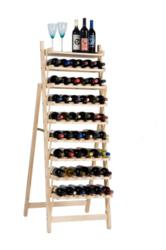 With the availability of the A-Frame wine rack soon gone for good, WineRackStore found a way to ensure that this product would at least go out with a bang
Olympia, WA (PRWEB) January 11, 2012
With the New Year comes a new inventory of wine rack and wine cellar designs, which also means it's time to say goodbye to last years models. The A-Frame wine rack has been a staple at the WineRackStore for a few years running, but with just a few left in stock, its time to bid adieu to this style of wine rack.
The A-Frame wine rack was a unique piece personally chosen by owner, Michael Kitson to add to his already extensive inventory of wine rack and wine cellar options. "I saw this during one of my travels and thought this would be a distinctive addition to our collection," said Kitson. "I made a couple of tweaks to the original design to enhance the display feature and the product as we see it today was born."
With the availability of this A-Frame design soon gone for good, WineRackStore found a way to ensure that this product would at least go out with a bang. Partnering with the wine loving due from WineDineDaily.com, the A-Frame rack is set to run in a 6-day giveaway on their website. Starting Tuesday, January 10th, people interested in entering the contest can submit their entries via the giveaway page on Wine and Dine Daily and one lucky contestant will walk away with their very own A-Frame wine rack.
Owned by Michael and Denise Kitson, WineRackStore.com has been selling quality pre-made and custom built wine racks, wine cellars and wine accessories since 1995. WineRackStore.com is A+ rated from the Better Business Bureau. All products are locally crafted in Olympia, WA and are shipped free anywhere in the contiguous United States.
# # #