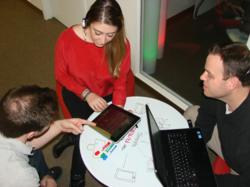 Northern Virginia is a hub for brilliant developers, entrepreneurs and change- agents who are, quite literally, reinventing the world from our community. weSpace is a place for these innovators to work and collaborate.
Reston, Virginia (PRWEB) January 11, 2012
The We Media group is announcing the launch of weSpace, an innovation hub for entrepreneurs, innovators and digital creatives at Reston, Va.'s high-tech commercial and social center.
Located at 1801 Reston Parkway across from Reston Town Center, weSpace provides low-cost offices and creative workspaces for solopreneurs, startups and digital creatives. It establishes a location, community and network for tech-enabled economic development in Northern Virginia and throughout the Capitol region.
More than just affordable office space for startups, weSpace is designed to advance technology, business, culture, policy and investment in the digital economy.
"It's how the future works," says Dale Peskin, co-founder of the digital innovation agency, We Media. "Northern Virginia is a hub for brilliant developers, entrepreneurs and change- agents who are, quite literally, reinventing the world from our community. weSpace is a place for these innovators to work and collaborate. It's a community that cultivates world- changing ideas and facilitates the connections that provide access to the essentials for success: knowledge, talent, resources, expertise, funding and attention."
As a pilot project, We Media reconfigured its offices at Lake Anne Village in Reston into co-working space two years ago. The space filled quickly, launching several tech startups. weSpace now extends the concept in the heart of the expansive technology corridor stretching from Washington, D.C. to Dulles Airport in Fairfax County.
Canvas, a do it yourself service environment for mobile business apps and one of the nation's hottest "new economy" companies, is a founding sponsor and the co-developer of the Reston Town Center site. The fast-growing company has established its headquarters there.
"The vital connections at weSpace spur entrepreneurship and economic development throughout Northern Virginia," says CEO James Quigley. "Collaboration was essential in the launch of Canvas. We are now excited to help launch a community in Reston where local entrepreneurs can be encouraged to grow their ideas into successful businesses."
In addition to Canvas and We Media, two other tech-forward companies - AppTap and the nonprofit think tank iFOCOS -- have opened offices at weSpace as charter members.
weSpace is member-based. Membership is open to startups, small teams and solopreneurs who can reserve private offices or workspaces by the month, or drop in by the day to use common areas, meeting rooms, collaboration campfires, and planning rooms. High-speed wireless access is available throughout the site, as are monitors, digital equipment and whiteboards. A coffee bar, kitchen and video-game arcade are open to all on-site members.
weSpace is hosting an open house from 11 am to 2 pm on Tuesday, January 17. RSVP at
http://wespaceopen.eventbrite.com/.
About We Media
We Media is a global digital innovation agency that helps organizations see, understand and respond to complex change. It operates a business studio that creates breakthrough ideas and designs innovations for a media-centric culture powered by everyone. Led by media and technology visionaries Andrew Nachison and Dale Peskin, We Media helps discover opportunities for investment, leadership, transformation and value creation. Through its media think tank iFOCOS, it produces leading-edge insight reports such as the ground-breaking We Media agenda that launched a movement, and a report for media-and-democracy policymakers on the global impact of mobile communications in the developing world . We Media also conducts public events, internal seminars, briefings and explorations into emerging technology, economic transformation and digital culture. Its annual We Media conference attracts thought-leaders throughout the world and its annual Pitch It! competition is ecognized internationally as one of the ten best investment challenges, Pitch It! identifies hundreds of innovative projects and awards $50,000 in seed investment to two promising startups ech year.
http://wemedia.com/about/studio/
About Canvas
Canvas makes it easy to publish data collection apps on smartphones and tablets as well as other devices such as laptops, netbooks and barcode scanning devices. Canvas reduces paper consumption, redundant data entry, and excess processes for businesses and mobile professionals. The Canvas software service enables mobile professionals to collect information using their mobile devices and share that information across their business community including with their customers.
Canvas also offers the first mobile business app store of its kind, allowing businesses from diverse industries to find mobile applications specific to their business that work on Android, Apple, Blackberry, and Windows mobile/desktop devices. Every Canvas application is customizable by our subscribers, and comes with GPS/location, image capture, electronic signatures and accessibility to a customer's own data like parts catalogs and patient records. To date, Canvas users have saved over 5 tons of paper using our service making it one of the fastest growing mobile app services for businesses. To learn more visit http://www.GoCanvas.com. Canvas is headquartered in Reston, VA at weSpace.
###