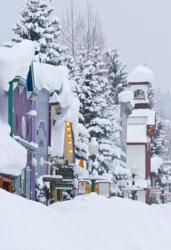 "Ski packages in January and early February have always been good values, but this year the savings are even greater."
Gunnison-Crested Butte, Colorado (PRWEB) January 10, 2012
The Gunnison-Crested Butte Valley is pulling out all the stops to offer ski and stay packages that connect travelers to some of the best skiing and snowboarding on the planet. These price tags and wide variety of lodging options are sure to impress everyone. The "Hot Deal: Ski & Stay in Paradise" deal is available for visits taking place from now until Feb. 16 and March 26 – April 8, 2012.
"Ski packages in January and early February have always been good values, but this year the savings are even greater. This package is perfect for those looking to save some money in one of Colorado's best ski towns," says Jane Chaney, executive director of the Gunnison-Crested Butte Tourism Association.
THE DEALS
Choose from 19 property types ranging from condominiums, cabins and vacation homes to inns, bed and breakfasts, hotels and hostels. All the packages are priced to include one night of lodging for two adults per room and two adult lift tickets. Additional nights of lodging and lift tickets can be added, and a few properties require two- or three-night minimums.
In Crested Butte, prices start as low as $92 per person for double occupancy at the Old Town Inn, including continental breakfast and warm cookies in the afternoon. Travelers looking for ski-in/ski-out in Mt. Crested Butte should consider a one-bedroom unit at Axtel Condominiums, which is only $126 per person based on double occupancy.
If you are driving, staying in nearby communities adds extra value with a two-bedroom riverfront cabin at Three Rivers Resort in Almont priced at $73 per person, based on four adults. In Gunnison, for just $62 per person based on double occupancy, stay at the Rodeway Inn, a 2012 Gold Medal Award winner for Choice Hotels International.
Go to http://www.paradisepackage.com for links and prices for all participating properties, which must be contacted directly for this deal. Additional nights and lift tickets, as well as children's lift tickets, can be booked. The deals are based on availability and do not include tax.
THE DESTINATION
At the north end of the valley, guests will find the family-friendly ski mountain, Crested Butte Mountain Resort (CBMR), and the amenities offered in Mt. Crested Butte. In fact, CBMR was named the #9 Best Place to Ski & Stay in North America by Condé Nast Traveler in 2011. Mt. Crested Butte options include full-service hotels, ski–in/ski–out condominiums, vacation homes and inns complemented by a selection of locally-owned shops and restaurants at the ski area base and nearby.
Located just three miles away and connected by the free Mountain Express bus system is the charming and historic town of Crested Butte. Lodging in downtown Crested Butte is within easy walking distance of fine dining, nightlife, live entertainment and shopping and ranges from quaint inns, bed and breakfasts and vacation homes.
Gunnison, home of the Gunnison-Crested Butte Regional Airport (GUC) and Western State College of Colorado, is 28 miles from Crested Butte and 31 miles from Mt. Crested Butte. Choose from several national brand hotels or locally owned and operated family inns, motels and a hostel. Shopping and dining in downtown Gunnison offers a wide selection of options with friendly service. Just 11 miles north of Gunnison, heading toward Crested Butte on Highway 135, is Almont, home to two resorts and located where the Taylor and East Rivers form the Gunnison River.
THE SOURCE FOR VISITOR INFORMATION
For a calendar of events and to find out more about Gunnison County, call (800) 814-8893 or visit http://www.GunnisonCrestedButte.com. Find the Tourism Association on Facebook at http://www.facebook.com/gcbta or follow us on http://www.twitter.com/gcbta.
The Gunnison-Crested Butte Regional Airport is served year-round by United and during the winter season also by American Airlines and Continental Airlines.
ABOUT GUNNISON COUNTY, COLORADO
Gunnison-Crested Butte is nestled among almost two million acres of pristine wilderness in southwest Colorado. Winter sports enthusiasts know the area for its world-class alpine skiing and snowboarding at Crested Butte Mountain Resort, snowmobiling, cross-country skiing, snowshoeing and ice fishing. Gunnison-Crested Butte is also a haven for outdoor summer activities. In the warmer months, visitors can choose from recreational activities such as hiking, climbing, mountain biking, boating, whitewater rafting, kayaking, fly-fishing, camping and horseback riding. Year-round visitors enjoy distinctive restaurants, unique shops and stimulating cultural opportunities, and have a wide range of lodging options — from rustic inns to guest cabins and bed-and-breakfasts to full-service resort hotels.
In Gunnison County, visitors will find the Curecanti National Recreation Area, where dinosaur fossils were recently discovered; the Blue Mesa Reservoir, Colorado's largest body of water and home to the largest Kokanee salmon fishery in the United States; and The Black Canyon of the Gunnison, one of our country's newest national parks. Gunnison County includes the quaint and historic towns of Pitkin, Gothic, Tin Cup, Marble, Powderhorn, Almont and Crystal, plus the better-known communities of Gunnison, Crested Butte and Mt. Crested Butte. Gunnison County is part of the West Elk Loop and Silver Thread Scenic & Historic Byways.
###