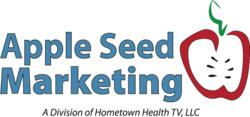 Marc and his team at Apple Seed Marketing, along with those who were willing to share their story, helped create a compelling message.
Leesburg, FL (PRWEB) January 10, 2012
LifeStream Behavioral Center now has a video to help tell the story of its impact on the community. The 10 minute video was produced by Apple Seed Marketing (http://www.AppleSeedMarketing.com) a division of Hometown Health TV, LLC, a client company of the Leesburg/University of Central Florida Incubator Program.
LifeStream is a behavioral health and social services organization that provides high-quality treatment, education, care management and rehabilitation services to children, adolescents and adults. LifeStream primarily serves the residents of Lake and Sumter Counties with 21 facilities and 52 programs.
Featuring LifeStream CEO Jon Cherry, medical director, Dr. T.J. Valente, other staff and LifeStream clients, the video was developed with three endings so that it can be used for employee orientation, fundraising and general community and referral source awareness about the extensive resources LifeStream offers.
The video, "Where Hope Comes to Life," can be viewed in its entirety online at http://www.YouTube.com/LifeStreamBC
"This year LifeStream is focusing on increasing community awareness through our 'I Support LifeStream' campaign. Marc and his team at Apple Seed Marketing, along with those who were willing to share their story, helped create a compelling message," said Sherry Olszanski, Director of Marketing at LifeStream. "The video effectively portrays the importance of our services which benefit individuals and families affected by mental illness and substance use disorders resulting in their greater productivity and community contribution."
Apple Seed Marketing, launched in 2011, is a division of Hometown Health TV, LLC, founded in 2008 by multi award winning marketing and creative veteran, Marc Robertz-Schwartz. Apple Seed Marketing provides video production, strategic marketing, website development, copy writing, design, and publicity to its clients.
"We were honored to be given the opportunity of developing a dynamic tool that truly showcases the wide-variety of services LifeStream provides our community through the power of video," said Marc Robertz-Schwartz, president of Apple Seed Marketing. "LifeStream has been serving Lake and Sumter Counties for 40 years, with a relatively low profile. The deeper we became involved in working with the LifeStream staff and patients, the more we realized just how profound an impact this amazing organization continuously has on our community.
About LifeStream Behavioral Center
Lifestream Behavioral Center has been meeting the behavioral healthcare needs of Lake and Sumter county residents since 1969. Since that time, LifeStream has developed to provide a full continuum of services to tens of thousands of children, adults and seniors each year. As a community-based organization, LifeStream is governed by a Board of Directors composed of community volunteers. LifeStream is accredited by the Commission on Accreditation of Rehabilitation Facilities (CARF) and reviewed annually by state and federal regulatory agencies.
About Apple Seed Marketing
"Every great idea, approach and business has to start with a seed." Apple Seed Marketing, a division of the multi award winning Hometown Health TV, LLC offers a handful of seeds and works with clients to determine which will yield the greatest crop of results depending on the individual client's needs, audience and budget. Apple Seed taps into an extensive network of resources across numerous platforms of expertise to help clients reach core objectives that generate desired results.
###