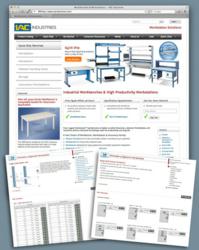 Brea, CA (PRWEB) January 18, 2012
IAC Industries, manufacturers of precision workstations and workbenches worldwide have launched an all-new website at IACindustries.com aimed at finding and choosing industrial furnishings exceptionally easy. According Matt McConnell, IAC's Director of Sales and Marketing, "We looked at every area of our website and how our customers make use of it. We've made critical information easier to find and more direct. The online catalog portion is totally rewritten to make the selection of all our workbench products and accessories extremely clear and easy. Request for quotes is now a very straightforward, step by step process easy enough for first-time buyers and comprehensive enough for experience purchasers."
IAC's new website offers new sections for Getting Started, Customer Resources and Rich Media. Quick Links point to the sites most popular pages. The core section of the site is the Online Product Catalog, organized by categories, series, products and their accessories, making it very easy to find and select from the company's broad line of ergonomic workstations, industrial workbenches, cleanroom benches, material handling stands and rolling carts, and storage cabinet products, along with all their associated accessories. The re-designed Quoting system enables visitors to quickly configure products, submit an RFQ, and receive a no-obligation quote within 48 hours.
Many visitors will find the Quick Ship section a great resource. This is a collection of IAC most popular product configurations, kept in stock, and ready to ship within 5-days of order—no need to settle for low quality alternatives just because the need is urgent.
Based in Brea, California, IAC Industries is the preeminent U.S. manufacturer of technical furniture (production workbenches, workstations, and related products) for companies performing assembly, testing, repairs, inspection and related applications across a wide spectrum of industries. IAC products are 100% made in the USA by Union Labor, and are sold worldwide. IAC Industries currently offers the widest range of workstations, workbenches, seating, and workstation-related accessories available from a single manufacturer. Products meet many industry and military requirements for static control in electronics assembly and testing. For more information, contact IAC Industries at 714-990-8997 or benchsales(at)iacindustries(dot)com.
###