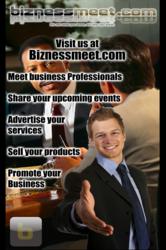 It is crucial for individuals and businesses who seek to reach that next level of success, to harness the awesome power of social and business networking.
Winston Salem, NC (PRWEB) January 10, 2012
For any business, getting the word out about your product or service is an absolute necessity in today's competitive marketplace. Word of mouth is excellent source of advertising but it's slow, ineffective and practically non-existent for new businesses. If you want to grow your customer base more quickly, you have to advertise. Traditional methods such as the yellow pages, direct mail and and business cards are somewhat effective but it is crucial that individuals and businesses who seek to reach that next level of success, harness the awesome power of social and business networking. Biznessmeet.com was created for just that purpose.
Biznessmeet is an innovative and user friendly virtual community and is free to join. By becoming a member, businesses and individuals are brought together in a social and professional perspective. This site satisfies all walks of life and directly targets individuals as well as businesses wanting to be movers and shakers and dominate their industry.
While Biznessmeet strives to be beneficial to everyone who joins, there are added benefits to being a premium member. Premium memberships are extremely beneficial for businesses and individuals alike. Businesses, that upgrade to a premium membership are able to post and share any specials, discounts, promotions and savings with the entire Biznessmeet community. Individuals that upgrade to a premium member are able to create a more in depth profile that includes their resume and any news or ideas that they would like to share with other members. Premium members can also share their experiences, business reviews, thoughts and opinions in a variety of ways.
Features on the site such as Contact Feed, Biz Feed, Biz News and My Reviews are all ideal ways to create and expand a broader social network. Another added feature, Spotlighting Your Business was created for the purpose of generating added exposure for the members of the Biznessmeet.com virtual community. The accomplishments and services of premium members or businesses will be spotlighted on a regular basis. This national exposure drives traffic to the site and increases the amount of exposure that individuals and businesses receive.
Biznessmeet.com provides a unique platform for individuals and businesses to connect with each other in an effort to build great relations around the world. Build, master and expand connections with this cutting-edge social network today! Remember it's not always what you know, but who you know.
For more information, Visit us today at; http://www.Biznessmeet.com
Rosalyn Wilson / Mitchell Brown
Biznessmeet.com Inc.
336-306-9472
###