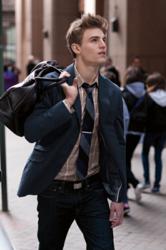 New York, NY (PRWEB) January 10, 2012
In a recent interview, Zachary Prell, founder and chief executive, said:  "We are extremely pleased to announce that ZACHARY PRELL is launching at Saks Fifth Avenue in New York City and can be found on the 7th Floor.  We're thrilled to introduce Saks' customers to ZACHARY PRELL with a carefully curated selection from our Fall 2011 collection, including sport shirts, outerwear and leather jackets.  We look forward to building a strong partnership with Saks' management and sales teams by providing the company with an unrivaled level of support and service."
  
 
ZACHARY PRELL is sold in over 250 stores throughout the U.S., including Neiman Marcus, Nordstrom and Saks Fifth Avenue as well as leading specialty retailers across the U.S such as Boyds in Philadelphia, Mario's in Seattle and Garys in Newport Beach.  The Company, which manufactures, markets and sells an expanding collection of men's sport shirts, outerwear, leather and swimwear, is based in New York City and can be found online http://www.zacharyprell.com.
###