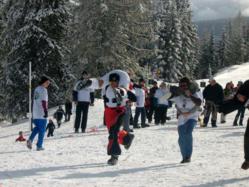 On the Idaho/Montana Border (PRWEB) January 10, 2012
The Winter Carnival, Family Fun Day and Pacific Northwest National Wife Carrying Contest happens Sunday, Jan. 15 at Lookout Pass Ski and Recreation Area. As the celebration's marquee event, the wife carrying contest generates a lot of curiosity. Lookout Pass is staging our sixth annual wife carrying contest this weekend, but the sport is something of an ancient tradition.
Legend has it that the sport of wife carrying originated in Finland in the late 1800s. A man named Herkko Rosvo-Ronkainen led a gang of thieves who would raid villages, steal food and run off with other men's wives slung across their backs. The sport has evolved into a more benign pastime over the years and is merely goofy, harmless fun at Lookout Pass today. But wife carrying is a serious international sport.
The Wife Carrying World Championships are hosted each July in the Finnish town of Sonkajärven, an event where the winner wins his wife's weight in beer. The event's popularity has inspired similar events in the United States, Australia, Ireland and China. The North American Wife Carrying Championships take place on Columbus Day Weekend in October at Sunday River Ski Resort in Newry, Maine. The event awards money to winners for travel expenses to compete in the Finnish world championship.
The wife-carrying competition works just like it sounds — a man slings his wife across his back and runs through a course as fast as possible. Several wife carrying techniques have been perfected over the years: piggyback, fireman's carry (over the shoulder), or the preferred technique of champions, Estonian-style (the wife hangs upside-down with her legs around the husband's shoulders, holding onto his waist).
The Pacific Northwest National Wife Carrying Contest at Lookout Pass awards a $100 grand prize to the ultimate champion, runner up gets $50 and third place, $25. The wife carrying contest is part of Lookout's Winter Carnival, featuring a snowman building contest, scavenger hunts for kids and adults, face painting, balloon animals, snow volleyball, three-legged family races, egg and spoon races and music in the lodge
About Lookout Pass Ski & Recreation Area
Lookout Pass Ski Area was voted as the "Favorite Family Friendly Resort" in the Pacific Northwest in April 2011 by users of OnTheSnow.com, one of the world's most visited web platforms. The resort, entering its 76th season, offers nearly 600 acres of skiing and riding immediately off the Exit 0 off ramp off Interstate-90 on the Idaho/Montana border. The unique location of Lookout Pass at the crest of the Bitterroot Range makes it the Inland Northwest's "No. 1 Powder Place," with an average of over 400 inches of light, dry powder snow annually. Lookout Pass was recognized for the most snowfall on Planet Earth in the seven-day period ending March 1, 2011 by skiinfo.com. Visitors to OnTheSnow.com, one of the most widely viewed travel sites on the web, voted Lookout Pass "Most Family-Friendly Mountain Resort in the Pacific Northwest in April, 2011. Learn more at http://www.skilookout.com.
Bill Jennings
Marketing Director
Lookout Pass Ski and Recreation Area
208.744.1301 x 16
Cell – 509.389.3894
http://www.skilookout.com
Idaho—Adventures in Living
Idaho is home to thousands of miles of biking trails, mountains to climb, lakes to fish, 18 ski resorts and more whitewater than any other state in the lower 48. So take a break from it all and come out to play. Idaho—adventures in living. Visit http://www.visitidaho.org for more information and vacation ideas.
###