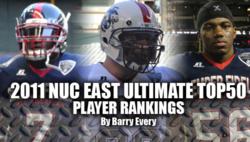 "We have selected the top players from seven states, many of these high school stars will start as freshman at the next level." Coach David Schuman
Mahwah, NJ (PRWEB) January 19, 2012
The final 2011 NUC East Ultimate Rankings are out. The biggest change is going from a Top45 to a Top50 in the East Regional Rankings. Each new addition is denoted by an asterisk. No player previously ranked fell out of the latest Top50 meaning there are exactly five new additions.
Seven states are represented in the NUC East region. Pennsylvania leads the way with 12 players in the Top50. They are followed by New Jersey (10), Maryland (9), Virginia (8), Massachusetts (4), New York (4), and the District of Columbia (2).
The NUC East Ultimate Top50 currently has 36 student athletes verbally committed to colleges. This means 28% of the players have still not made a decision on where they will attend school. Currently Penn State and Virginia lead all colleges with five commitments. They are followed closely by Rutgers with four commitments. Looks like there will be a lot of excitement between now and signing day February, 1.
Go Here to read about the Top 50
###