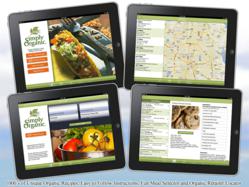 "This is an unexpected honor, but the real winners will be cooks of all skill levels that download and use the recipe app," says Kory Kazimour, Simply Organic Senior Brand Manager.
Norway, Iowa (PRWEB) January 10, 2012
Simply Organic's acclaimed recipe app is a finalist in the 2011 "Best App Ever Awards," and the spice and seasoning maker is calling on all fans and friends to vote it the winner by Jan. 25.
148Apps has selected Simply Organic's app for iPad® as one of the top ten iOS recipe apps. The winner of the recipe category will be announced at the 2012 Macworld / iWorld Expo in San Francisco on January 26-28. Simply Organic is the only organic brand in the category; individuals can vote at http://www.simplyorganic.com or http://bit.ly/BestCookingApp.
Available free from the iTunes® store, Simply Organic's recipe app contains several key features that have been recognized for their innovative, but user-friendly functionality. They include:

Browse and search functionality for more than 1,500 professionally created recipes, with an emphasis on organic ingredients.
Recipes referenced by popular recipe collections, such as Healthy Kids, Vegetarian Main Dishes, Ethnic Cuisines, to name just a few.
Filtering recipe searches by what users already have stocked in their fridge, by what ingredients are in season, or by a key word.
Weekly recipe ideas and coupons.
A "Sneak Peek" function that provides a preview of key facts such as prep time, cooking time, ingredients and directions, which users can then click to full view if they like what they see.
Customized note taking for future reference to instantly save any changes made to cooking preparation, as well as any wine pairings that worked well or not.
A "Give it a Spin" function that generates recipe suggestions randomly with a spin of the touch screen for those uncreative cooking moments.
Sorting by ease of preparation, cooking time, or by user-rated favorites.
As recipes are selected, users can tap an ingredient which automatically generates a shopping list. Before heading to the grocery store, users can email the grocery list to themselves and use the embedded Google Map program to get directions to the nearest retailer where Simply Organic products are sold. Better yet, iPad/iPhone/iTouch users can check off items on the recipe app as they shop, for ease and sustainability.
Simply Organic also adds an average of 10 new recipes twice every month. Those new recipes are automatically added for free and simply require the user to accept the new recipe download notice.
Simply Organic®
Simply Organic®, an all-organic brand from Frontier Natural Products Co-op™, offers an extensive and growing selection of certified organic spices, seasonings, baking flavors and mixes while supporting organic agriculture around the globe. By providing the best available organic seasonings and donating one percent of sales to organic agriculture and education, Simply Organic genuinely offers "Simply Healthy Living. Simply Great Taste." Find out more about Simply Organic at http://www.simplyorganic.com.
Frontier Natural Products Co-op™
Founded in 1976 and based in Norway, Iowa, Frontier Natural Products Co-op™ offers a full line of natural and organic products under the Frontier, Simply Organic®, Aura Cacia® and Aura Cacia Organics® brands. Products include culinary herbs, spices and baking flavors; bulk herbs and spices; and natural and organic aromatherapy products. Frontier's goal is to provide consumers with the highest-quality organic and natural products while supporting and promoting environmental and social responsibility. For more information, visit Frontier's website at http://www.frontiercoop.com.
###