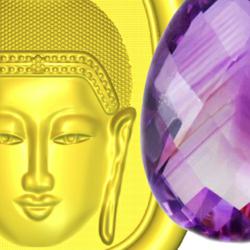 "Several independent scientific studies have shown that every piece of jewelry we sell has the capacity to protect and release stress from the wearer, creating a wonderful sense of well-being," says HighChi founder Deborah Stuart.
San Francisco, CA (PRWEB) January 11, 2012
One of Northern California's innovative energy medicine companies is now creating beautiful jewelry that protects the wearer from harmful electromagnetic energies that are often present in today's high tech world.
HighChi Energy Jewelry is the ideal combination of divine beauty, bold sophistication, higher energy and subtle armor which provides protection from harmful electronic rays. HighChi Jewelry products are becoming known for their high quality, timeless design, and dramatic styles which combine the best of old world and leading edge technologies.
"HighChi Energy Jewelry is the perfect matrix of pristine and impeccably balanced energy," says Deborah Stuart, founder and design director for HighChi, LLC. "They are in essence 21st Century or New World talismans, to help people manifest what they desire most while protecting them from negative electromagnetic energy fields (Negative EMFs) generated by today's wireless technology, especially cellular phones. Several independent scientific studies have shown that every piece of jewelry we sell has the capacity to protect and release stress from the wearer, creating a wonderful sense of well-being."
According to Stuart, each piece is meticulously crafted according to Harmonic Resonance Technology, which activates a higher vitality and energy in body, mind and spirit while protecting the wearer form the harmful effects of negative frequencies generated by negative electromagnetic energy fields, and even lower frequency energies from others. Even more importantly, she says, HighChi helps people release their own harmful thoughts and feelings.
The HighChi Jewelry collection includes various lines—Sacred Geometry, Gods & Goddesses, Chi Charms, Harmonic Jewels, Men's Collection and Power Pieces. In the Eastern Ayurvedic tradition, gemstones have been used for thousands of years, for healing, protection and prosperity. When gemstones are energized with HighChi Energy, their properties are amplified. These same energies were also considered the Sap in the Tree of Life in the Kabbalah. The Ancient Geomancers of Feng Shui in China also created these energies for the perfect alignment of body, mind, spirit and physical environments.
Through its extensive research, HighChi, LLC has developed a proprietary technology that can be used to energize nearly anything, including cars, apparel, and even cosmetics. The company is now licensing its six energy formulations to consumer product companies and manufacturers. The big picture vision is to create the most healing and transformative energy available and make it available to as many people as possible.
"We believe that negative EMF or ELF pollution is the biggest pollution on the planet right now, and independent studies show the important health and transformational related benefits of wearing HighChi Jewelry," adds Stuart, a conscious entrepreneur and energy medicine pioneer who has called the Bay Area home for the past 16 years. "Based upon the brilliant work of the fathers of subtle energy medicine, including Nikola Tesla, William Royal Rife, Dr. Wilhelm Reich, Dr. Albert Abrams, George Lakhovsky, and more recently Dr. Ibrahim Karim, we are standing on the shoulders of these giants and creating remarkable solutions. Our full time research and development efforts have allowed us to continually upgrade new and existing jewelry for the most optimal beauty and protection for HighChi fans."
HighChi Energy Jewelry products retail between $49.00 and $699.00 at Exhale stores, Yoga Works and many other fine retail stores. For more information about the company and its entire HighChi Energy Jewelry collection visit http://www.HighChi.com or call (415) 868-9050.
Samples of artwork/product photography are available by request.
Media Contact: John Stellar or Kate Romero-Stellar / Stellar Communications (800) 858-2712.
###