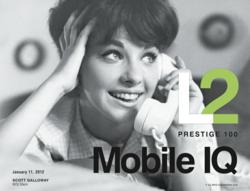 "Mobile competence may be a crystal ball for a brand's global prospects," says Professor Scott Galloway.
New York, NY (PRWEB) January 11, 2012
Sephora secures the top spot in the inaugural L2 Prestige 100®: Mobile IQ. The ranking, developed by NYU Stern Professor Scott Galloway and a team of experts from L2, measures the mobile competence of 100 brands drawn from five industries: Beauty & Skincare, Fashion, Hospitality, Retail, and Watches & Jewelry. Brands were measured against more than 250 data points across four dimensions: Mobile Sites, Mobile Apps, Mobile Marketing, and Innovation & Integration, and were assigned a Mobile IQ and a corresponding class of Genius, Gifted, Average, Challenged, or Feeble.
The IQ distribution reveals a significant, widespread underinvestment in mobile, as nearly half the brands were designated as Feeble.
"Mobile competence may be a crystal ball for a brand's global prospects," says Galloway. "Ground zero for growth in prestige exists among consumers who are increasingly turning to a small screen to learn about, and ultimate consummate purchases of prestige brands."
To download the complete rankings and key findings, go to: http://bit.ly/L2MobileIQ
To watch the video, go to: http://youtu.be/YofkVkz4Qe8
Top Ranked Brands in the Study:
1. Sephora
2. Nordstrom
3. Macy's
4. NET-A-PORTER
5. Bloomingdale's
T6. L'Occitane en Provence
T6. Tiffany & Co.
8. Neiman Marcus
9. InterContinental Hotels & Resorts
10. Estée Lauder
Key findings include:

M-commerce adoption is nascent in the prestige industry. Only two-thirds of prestige brands maintain a mobile-optimized site, and one-third of these mobile development efforts do not yet support commerce.
While 70 percent of brands have mobile apps, fewer than 20 percent of brands have created unique app content for tablet devices such as the iPad, which register high usage among affluent consumers.
Retail brands outperformed other prestige categories by a significant margin. Of the 14 brands classified as either Gifted or Genius, half are retailers.
Many prestige icons (16 percent of brands) have not yet developed a mobile-optimized site or a mobile app, significantly limiting their ability to effectively reach mobile consumers.
The ratio of mobile searches to desktop searches for prestige brands exceeds expectations set by the share of traffic generated by mobile devices at large. This observation underscores the urgency to adapt search engine optimization, email marketing, and other digital efforts for mobile platforms.
"Given the evidence, we appear to be entering the beginning of a persistent mobile era," says Galloway. "Brands ignore this shift at their own peril."
About L2
L2 is a think tank for digital innovation. Founded by NYU Stern professor of marketing Scott Galloway, L2 helps prestige brands navigate the digital marketing landscape through events, research and advisory services. The L2 Digital IQ Index® is the largest and most robust study of its kind. Rankings are published annually across industries including Luxury, Specialty Retail, Beauty, Travel, and Media. In Q4 2011, L2 launched L2 Europe offering research, advisory and events to prestige brands across Europe. For membership information, contact [email protected]
###