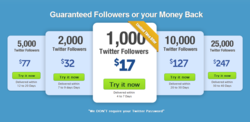 Guaranteed Followers Or Your Money Back
Ottawa, ON (PRWEB) January 11, 2012
"It was a big step to take, it was definitely risky but we decided that by acquiring Quick Twitter Followers, would be beneficial for the development of the company. In 2011, we saw how much progress we were making, and this is the next step to bring us to a higher level in our industry" announces Managing Director, JP Bisson.
Buy Real Twitter Followers is under the wing of Buy Real Marketing, a world provider of Web 2.0 Business Applications whose main business is helping other businesses thrive online. Currently, they hold a vast network such as the following sites: Buy Real Fans and Likes, Buy Real YouTube Views, and Buy Real Vimeo Views. These websites were created to help users on the internet become more competitive and to improve their online presence and credibility to their market.
Purchasing these web properties are 100% safe and uses the best possible methods to harness an organic and successful social media marketing campaign. Buy Real Marketing is one of the most reliable suppliers for these web properties. They are the no. 1 provider in Twitter Followers, Facebook Fans and YouTube Views. "The demand for these three services is astounding. At the beginning, we were unsure whether or not these services would be needed, but after a year and a half, here we are, still getting as many orders as fast as we can process" mentions Business Development – Managing Director, Jonathan Kennedy.
Real and Non-real Twitter Followers are very sought after in the market due to the immediate marketing impact it provides its clients' businesses. Many of their clients have raved about their quick and easy sign up process, quality service and friendly and able customer sales representatives. The company's business executives are very optimistic of this big step for Buy Real Twitter Followers. They are expecting to see positive results within the next few months.
To know more about the latest updates on Buy Real Twitter Followers, visit http://www.buyrealtwitterfollowers.com or give them a call at 1-877-435-5955.
About Buy Real Twitter Followers
Buy Real Twitter Followers belongs to Buy Real Marketing, a wholly owned by Clicking Labs, Inc. Clicking Labs is a well established internet marketing company founded in 2010 by Jean-Patrick Bisson, Diana Quartin and Jonathan Kennedy. The company specializes in driving search marketing and social media traffic, social web app development and conversion optimization. Each product or service specifically helps small/medium website owners increase online visibility and improve online sales.
###