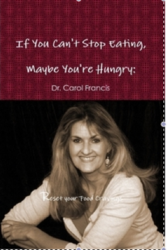 Our mind is powerfully able to make us eat or help us feel satisfied. Perhaps, this technique will harness those mental powers.
Los Angeles, CA (PRWEB) January 16, 2012
Over-weight linked to over-eating or binge eating has been the focus of Lap Band surgeons and diet companies for decades. Lap Bands are more popular than ever and often covered by medical insurance to ease the physical maladies of obesity. Surgery however always has the possibility of other physical complications.
So, is there another way to shrink the size of a stomach and reduce the appetite? Mary O'Maley, trained in the procedure that is like a lap band hypnotic technique which arose from the UK, discusses the success of this newer use of hypnosis to produce the same physical responses Lap Band procedures create. This program provides listeners thought-provoking information about this painless, easy procedure. Turn to Hypnotic Lap Band with Mary O'Maley and Dr. Carol Francis
"We are always at odds with our mouths desire to taste and chew food and our body's wish to not be overwhelmed by too much food which it needs to process or metabolize. So, is hypnosis a way that helps people feel their stomach is full before they spend too much time tantalizing their taste buds?" asks Dr. Francis. Mary O'Maley addresses techniques, length of time these hypnotic interventions take and effectiveness.
Dr. Carol Francis, Clinical Psychologist and Fitness Trainer is also the author of "If You Can't Stop Eating, Maybe You're Hungry: Reset Your Cravings" published in 2010, directs this interview to explore these questions.
###