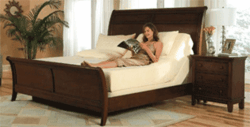 This event is the perfect opportunity for nearly every American to experience a healthier quality of sleep at a very affordable price.
(PRWEB) January 11, 2012
Adjustabeds.com has announced a Year End Clearance Event that makes it easy and affordable to try an adjustable bed at home. From now until February 15th, all adjustable bed orders are eligible for Free Shipping, complementary In-Home Setup, and a 90-Day Free Trial. Shoppers are also invited to take advantage of the Adjustabeds.com 36-month interest free financing program.
The Year End Clearance Event is part of the company's commitment to helping individuals lead healthier lives in 2012. "Adjustable beds can significantly improve your overall health," states Adjustabeds founder Matt Byrd. "This event is the perfect opportunity for nearly every American to experience a healthier quality of sleep at a very affordable price."
The Adjustabeds.com collection includes popular models by Reverie, Ergomotion, and industry leader Leggett and Platt. These fully adjustable beds feature whisper-silent electric motors that smoothly move both the head and foot of the bed to a desirable incline. Shoppers may stay simplistic with their choice of bed, or they may choose advanced models with added elements of comfort. The Leggett and Platt Prodigy, for example, includes a multi-mode Wave massage feature, wireless remote, and programmable Gentle-wake up massage setting. The Prodigy is also the World's first "smart bed," using mobile App technology to fully integrate bed controls with an iPhone.
Innovative design and functionality are not the only benefits adjustable beds deliver. Only in an adjustable bed is the body able to be supported in a position of least resistance to gravity throughout the night. Mounting research indicates that this ergonomic position relieves the body of pressure, and it lays the foundation for a cascade of positive health benefits including:
Improved Circulation: An adjustable bed evenly distributes body weight by moving into a position that supports the delicate curvature of the back. This reduces pressure, aids in healthy circulation, and may enhance the flow of oxygenated blood and nutrients to the entire body.
Arthritis Relief: Arthritic pain can build overnight and become overwhelming in the morning. Sleeping in a fully supported position relieves the joints of pressure, tension, and morning pain.
Heartburn Relief: Those who suffer with heartburn know it can be extremely uncomfortable. In some cases, chronic heartburn may cause nausea and loss of sleep. An adjustable bed raises the throat and esophagus above the stomach to make it more difficult for stomach acids to cause acid reflux.
Snoring Relief: Sleeping in a semi-elevated position distributes weight more evenly across the entire body. As a result, the air passages of the nose, throat, and chest open up naturally. This allows individuals to breath more easily during the night, alleviating snoring and other conditions related to sleep apnea.
Accessibility: Getting in and out of bed each day can be a challenging and painful experience. Those suffering with arthritis, stiff joints, or limited mobility will find an adjustable bed to be more accessible than a flat mattress. Only an adjustable bed can be raised into a full upright position to make for a more comfortable and controlled transition in and out of bed.
The Year End Clearance Event on Adjustabeds.com applies to all Reverie, Ergomotion, and Leggett and Platt adjustable beds. Readers are invited to shop the Web's largest selection of high quality move-able sleep systems and try one risk free for 90 days. Through February 15th, all online orders are eligible to receive Free Shipping, complementary At-Home Setup, and 0% financing for 36 months.
Readers may shop adjustable bed frames online or call a Customer Care Representative toll free at 1-877-535-1159.
###