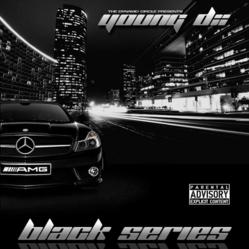 Miami, FL (PRWEB) January 11, 2012
Hip hop artist Young Dii recently released his [mixtape "Black Series." The Dynamic Circle and Coast 2 Coast Mixtapes present the project, which is available for free download. "Black Series" features Yound Dii on tracks with guest artist appearances from Adam Duncan, T-Millz, Grizz, and Sir Adams. Production credits include Young Dii, Kountdown, Kajmir Royale, Flash Beats, Fly Life, Cash Jordan, and more.
Daniel "Young Dii" Whitney has made his name in the independent hip hop scene. Dii has always had a passion for music since he was a young boy. Growing up listening to MC Hammer, Run DMC, Big Daddy Kane, Ice Cube, Dr. Dre and Snoop Dogg, Dii decided he wanted to make his way into the rap scene. He started out recording on a handheld microphone when he was 11, to recording in top-of-the-line studios by 18. Dii was a solo artist until he decided to give his friend Sir Adams a shot on one of his new tracks. Adams and Young Dii got great feedback from the song entitled "Gotta Lotta Dough." The two put out an album entitled "Graduation EP," which sold several thousand copies around their hometown of Lee's Summit, MO. Young Dii has opened shows for major artists such as Mims, Bobby Valentino, and Young Jeezy. He currently resides in Hollywood, CA where he is hoping to expand his career in many ways.
The words "Black Series" in the Mercedes line stand for top-of-the-line-perfection, which is why Young Dii titled his mixtape "Black Series." It represents the best and not just a normal version that blends in with the regular crowd. The new mixtape represents Dii as an all-around artist—many people say after hearing it they feel like they know him personally. He is currently working on promoting the mixtape as well as planning a number of live shows during 2012.
"Black Series" is available for free streaming and download at http://coast2coastmixtapes.com/mixtapes/mixtapedetail.aspx/young-dii-black-series
###