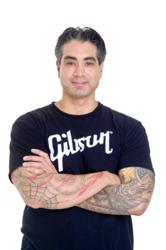 I cut thru all the confusion of approaching the guitar. I give you the tools you need to have fun and start jamming right away with songs you want to play, while at the same time teaching you the fundamental principles of the instrument.
Fort Lauderdale, FL (PRWEB) January 10, 2012
Dyce's lessons for the absolute beginner are a hit for a reason: unlike any other teacher—in person or online—Dyce gets students playing right away. He not only shows information, but, more importantly, Dyce quickly, automatically shows students the application. His methods are so solid, in fact, that anyone watching this video will be able to learn the basic groove: even if it is the first time that they have ever picked up a guitar. It is no wonder that Dyce's Fort Lauderdale guitar lessons are a hit in the sunshine state, and across the world, online.
This first lesson covers just the chords E and Am. By isolating just these two, rich—simple to play—chords, Dyce gives beginning students a confidence-boosting look at just how easy it can be to play real music. Dyce shows students how to finger them, and provides some easy-to-learn ideas how to place the fingers on the fret board. These two chords are two of the most popular in American rock, blues and pop—and students will have a blast as they begin playing "real music," right from the very first lesson.
Dyce Kimura is a highly-regarded Fort Lauderdale guitar teacher. A legitimate, full-time guitar instructor, he rose straight to the top of Miami's competitive music scene as a recording session pro and top-flight guitar instructor. For years, Dyce's Fort Lauderdale guitar lessons have been a favorite with everyone from beginners and kids—to intermediate players and semi-pros. Now, through the power of the internet, Dyce reaches avid students from across the globe directly via YouTube.
###