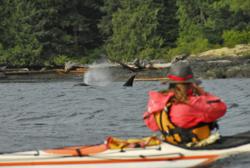 "Wild Salmon are the backbone of our coast and they need our help!"
- Breanne Quesnel, owner of Spirit of the West Adventures and concerned coastal resident.
Vancouver Island, British Columbia (PRWEB) January 17, 2012
Spirit of the West Adventures has partnered with Salmon are Sacred and [Wild Coast to help raise funds which will be used to help protect wild salmon.
Salmon are Sacred is a non-profit organization which works to protect wild salmon and encourages salmon farming to operate in a sustainable manner, without negatively impacting the wild pacific salmon stocks that so many species, from whales to grizzly bears to trees and people, depend on.
The grand prize for the raffle fundraiser will be a space Kayaking Vancouver Island in western Johnstone Strait as part of the Johnstone Strait Expedition Tour (value $1495) donated by British Columbia-based Spirit of the West Adventures.
The Johnstone Strait Expedition tour is a 6-day kayaking and camping adventure in the world famous Johnstone Strait area. This tour explores the stunning bays and islands of the Broughton Archipelago, which is home to a variety of marine life and offers the chance to kayak with killer whales, humpback whales, minke whales, dolphins, porpoises, bears, eagles and much more. The tour was recently named on the National Geographic Ultimate Adventures Bucket List.
Those interested in helping wild salmon and trying their luck in the raffle can purchase tickets on-line through the Wild Coast website. All funds raised go to Salmon are Sacred.
For more information about kayaking tours offered by Spirit of the West Adventures, please call 1-800-307-3982 or 250-285-2121 or visit their website at http://www.kayakingtours.com.
About Spirit of the West Adventures
Spirit of the West Adventures, located on Quadra Island, British Columbia, has run multi-day kayaking tours in the Vancouver Island area for over 16 years. Spirit of the West offers sea kayaking tours around Vancouver Island including Johnstone Strait and the Broughton Archipelago, Desolation Sound, and the Nuchatlitz. International sea kayaking destinations include Chile, the Bahamas and Greenland.
###