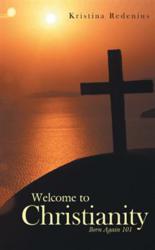 Abilene, Texas (PRWEB) January 11, 2012
Given the many denominations of modern Christianity, many people who might otherwise come to the faith are put off by the seeming complexity. How is one to know which of the churches in the right one? How can one know the correct way to find Jesus? In her new book "Welcome to Christianity: Born Again 101" (published by WestBow Press), author Kristina Redenius offers readers a guide to answering those questions.
"I wanted to explain salvation and Christianity in its most basic form," Redenius writes, "in hopes of clearing up some of the misconceptions out there, as well as lay it out for new believers, just as I needed it laid out for me."
An excerpt from the book:
"All of our sins, past, present, and future are covered by the blood at the cross. That's another Christian way of saying all of your sins are forgiven because of Jesus dying, shedding his blood at the cross. If you are thinking, "So does that mean I can do whatever I want because I know I'm forgiven anyway? It's like an etch-a-sketch right? I go rob a bank and…shake, shake…now it's gone! Jesus took care of it so no harm, no foul. I'm good, right?" Slow down there, Bonnie and Clyde, not quite."
"Welcome to Christianity" spells out Christianity for the everyday reader. Redenius' intent in writing it was to make the subject relatable and understandable by everyone, not just those few with a theology degree.
"Too many people are lost and either don't know it," Redenius says, "or don't know how to get out. This is the way: Jesus. I'm tired of the whole concept of Christianity getting muddy with stereotypes. Let's just keep it simple."
About the Author
Kristina Redenius grew up in a small town in Iowa. She married her high school sweetheart after graduating from Iowa State University in 2005 with a degree in early childhood education. Her husband's Air Force career has kept them on the move ever since. While they were stationed in Texas, she learned about Jesus and salvation. Both Redenius and her husband were saved and have committed to a life serving Jesus Christ.
WestBow Press is a strategic self-publishing alliance of Thomas Nelson, Inc., the world's largest Christian publisher, and Author Solutions, Inc. (ASI) — the world leader in the popular self-publishing industry segment. Through this partnership, authors benefit from the rich publishing heritage of Thomas Nelson and the speed-to-market advantages of the ASI self-publishing model. Titles published through WestBow Press are evaluated for sales potential and considered for publication under the Thomas Nelson imprint. Thomas Nelson, Inc. continues to "inspire the world" with distribution of products in more than 100 countries worldwide. For more information, or to start publishing today, visit http://www.westbowpress.com or call (866)-928-1240. Follow us @westbowpress on Twitter for the latest news.
###