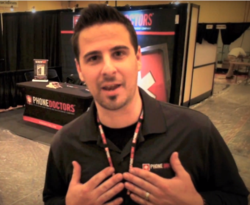 Over the last few years we have seen a huge increase in the demand for quality repair solutions for the mobile phone repair industry.
Las Vegas, NV (PRWEB) January 10, 2012
Last year the Consumer Electronics Show was flooded with innovative new SmartPhones and mobile devices.  Thousands of these break on a daily basis, and it has created a booming new demand for smartphone repair.
Phone Doctors will be on site at CES2012 to present some amazing innovations for the booming mobile repair industry.  "Over the last few years we have seen a huge increase in the demand for quality repair solutions for the mobile phone repair industry.  Phone Doctors is responding to this need by bringing our experience, our techniques and our solutions to new and existing SmartPhone repair businesses and entrepreneurs," said Tony Darrick Baker, Vice President of Marketing.  
Phone Doctors will be presenting a variety of solutions including:
ScrewMat - This patent pending invention by CEO Alex Iser simplifies the process of repairing SmartPhones. The iPhone 4 has over twenty screws in multiple sizes that are required to fit in specific places.  Without this, the repair process can prove to be a daunting task to keep things in order.  The ScrewMat magnetically holds the screws and small parts while providing an easy to follow guide detailing where these screws belong.  For phone repair businesses and DIY enthusiasts, the ScrewMat will speed up the repair process, and help save time, money, and a few headaches.
PhoneDoctors App - Phone Doctors has developed an innovative mobile application that is designed to help both professionals and consumers repair SmartPhones more efficiently.  This mobile application features step-by-step repair guides and videos for all major Smartphone and mobile devices.  With new guides being added monthly, this app is sure to be a favorite in the Smartphone repair industry.
RepairPOS by PhoneDoctors - This web-based Point of Sale software is designed specifically for the cellular repair industry. It provides repair businesses the ability to control inventory, track retail sales, and of course control the repair workflow more efficiently.  Since the software is designed by pioneers in the cellular phone repair industry, it is specifically tailored to the needs of both small and large mobile device repair businesses.
PhoneDoctors DIY Kits - Phone Doctors is leading the industry with the most complete, practical, and consumer-friendly DIY phone repair kits. The enormous demand for smartphone repair has created a great opportunity in the Do-It-Yourself marketplace. DIY consumers can quickly and easily repair their smartphones using Phone Doctors videos, quality tested parts, and all the tools needed for a successful repair. The Phone Doctors DIY Kits also include a DIY version of the ScrewMat.
VIP Network - Phone Doctors has created an exciting VIP Network which offers wholesale pricing, hands-on training, ongoing promotion, and the service and support to entrepreneurs who have a desire to join the repair industry to fix iPhones, Androids, and Windows Phone mobile devices.  Trained and approved members can receive Phone Doctors Certification and become partners in the industry. The VIP Network is designed primarily for individuals and cell phone, computer and electronic stores.
Licensing and Franchising - Phone Doctors has created one of the most powerful brands in the industry. Phone Doctors is actively working to create new opportunities in the United States and throughout the world. Phone Doctors supplies the experience, training, and the systems necessary to provide a strong brand, great customer service, high quality products, and reliable repair solutions to smartphone consumers today.
Phone Doctors will be showcasing at CES2012 this week at the Venetian Exhibit Hall, booth 70521.  
About Phone Doctors
Phone Doctors has been providing repair and replacement services for consumers since 2003.  Today Phone Doctors also serves as a complete solution provider for entrepreneurs looking to start and grow smartphone repair businesses.  Phone Doctors is based in Tulsa, OK and can be found online at http://PhoneDoctors.com
Phone Doctors will be providing CES2012 Coverage on Twitter @phonedoctors and on YouTube at http://youtube.com/phonedoctors/
###