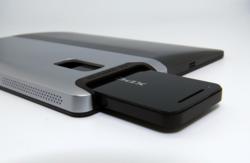 Las Vegas, Nevada (PRWEB) January 11, 2012
ICE Trinity ™, a winner of prestigious iF Design Award 2012 for innovative product design, is an intelligent platform which will be released early 2012. The platform integrates with a portable computing device, or an intelligent core to form a dynamic computer that may serve many uses, pad, tablet, computing device, and a netbook/notebook computer. The operations of the integrated device are determined by the connected intelligent core's CPU architecture and its installed operating system. The intelligent platform includes a core slot located behind a display for accommodating the intelligent core. Practically, ICE Trinity ™ is a simple device with multi-touch display without OS and core hardware. However, it could connect to a computing device such as Smartphone to be a pad device, or a PC module which contains X86 processor with Microsoft Windows OS to make it like a touch screen tablet or netbook.
Unlike traditional computing device, ICE Trinity ™ is a cost-effective and Eco-friendly device by allowing components that can be easily shared, reused, and upgraded by plug-n-play the intelligent cores without having redundant investments. In addition, ICE Trinity ™ is portable, yet complete – you can hold the intelligent "brain" in your pocket; get the best web surfing, email, photos, TV, movie watching experiences anytime anywhere.
ICE Computer, a start-up in Silicon Valley, California, established in 2010 is to create new novel, simple, and elegance devices to fulfill the needs of personal computing devices for post-PC era. It offers advanced features, ease of use, and new user experiences for worldwide Internet customers by providing the highest satisfaction.
###