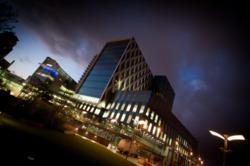 proAV thanked for 'breezing through the massive project with a noticeably well-managed installation and for being remarkable in the way they faced each challenge'.
Egham, Surrey (PRWEB UK) 12 January 2012
As the spring term began for the new intake of students at the University of Salford's iconic MediaCityUK campus, proAV has received worthy praise from a truly forward-thinking client who has set new standards of innovation in the application of professional AV for the creative and education sectors.
In a glowing commendation, the University's Audio Visual & Event Coordinator, Andre Davis thanked proAV for its part in the successful and timely opening of the prestigious venue and for 'breezing through the massive project with a noticeably well-managed installation and for being remarkable in the way they faced each challenge'.
The University of Salford's new 100,000 sq. ft. campus at MediaCityUK is home to 20,000 students, 2,500 staff and 10 schools and is one of Salford's biggest employers. Acknowledged as an ambitious project that's already changing the face of the media sector, Mark Thompson, BBC Director General confirmed, 'the University's presence alongside key parts of the BBC means MediaCityUK will be one of the places where the future of the media industry will be shaped'.
Indeed, Stephen Wild, Managing Director of MediaCityUK said: 'The fusion of industry excellence, such as the BBC and ITV, with academic talent from the University, is a key ingredient to delivering an environment where talent can network and prosper'. This is a view supported by Jon Corner, Director of MediaCityUK for the University of Salford who commented: 'Students will now be able to benefit from our fantastic new facilities and they'll also be able to rub shoulders with some of the best creative and technical minds in the country. We're now concentrating on widening the circle of partners we have, increasing opportunities for students, and ensuring the wider business community recognises what the University can offer in terms of research and innovation'.
At the heart of this project sits some of the world's pioneering AV technologies, which are now driving the University's world class news and digital media teaching facilities. Newsroom workshops, video processing and editing suites and media technology labs sit alongside collaborative teaching and presentation areas, lecture theatres and specialist digital media and exhibition spaces that have created a new way of teaching the UK's future digital creatives.
As Heidi Roper, Education Account Manager at proAV revealed, 'the University of Salford had the vision to see this project as 'a community where collaborative relationships can grow and flourish… in a brave new world which will require talented people from different disciplines to work together'. And, today, our AV technologies are inspiring and educating a new generation of creative students in an environment where interdisciplinary relationships and groundbreaking teaching methods will really thrive.'
proAV was awarded the contract to equip the prestigious digital learning, teaching and research space by main contractor, Overbury plc and the new campus was formally opened in October 2011 when the first undergraduate and postgraduate students embarked on courses including Audio Technology, Journalism, Animation, Computer and Video Games, Digital Broadcast Technology and Creative Technology.
Full details of the University of Salford's MediaCityUK project are available as a case study on the proAV website.
For more information about the University of Salford's new facilities at MediaCityUK, please visit http://www.salford.ac.uk/MediaCityUK.
# # #