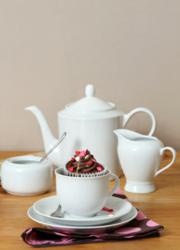 The Big Chocolate Tea Party 2011 raised more than 17,000.
(PRWEB UK) 11 January 2012
The Big Chocolate Tea Party is hosting for its 3rd year this April and proved a huge success last years! Thorntons is telling us about this big event.
Campaign aims to raise £100k by asking the public to host a chocolate tea party for family or friends and donating funds raised to The Sick Children's Trust (SCT). They believe that no child should be separated from their family whilst in hospital being treated for a serious illness, so they use donations received to provide "home from home" accommodation so the child's family can be near them until they recover.
All you have to do to get involved is host a tea party with plenty of chocolate and send any donations to them. Homemade chocolate goodies also make for great family project get-togethers. Whether you opt for the easy chocolate lollipops, or choose to try fancy chocolate cakes - these recipes not only taste great, they can make a holiday place setting or Easter ornament.
Homemade chocolate can be a long process, and it may take many tries and a lot of patience. There are no right or wrong recipes. If you can't handle the cooking process, there are a number of different online websites that are dedicated entirely to chocolate offers. The Internet is a great help when you are looking for the perfect chocolate. Thorntons is one of the company providing information and recipes including chocolate.
The Big Chocolate Tea Party 2011 raised more than 17,000. "We are delighted that so many of you supported The Big Chocolate Tea Party campaign this year and made it such a fantastic success once again; we literally couldn't do it without you, our loyal supporters. The money you have raised from your tea parties will make such a huge difference to the thousands of children and families we help each year," said a SCT representative.
Sources:
Weboptimiser News: http://weboptimisernews.com
Thorntons: http://www.thorntons.co.uk
###