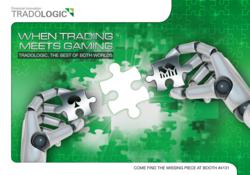 Our nomination is a testament to the hard work our team has put in to make our platform the best available in the market today...
Nicosia, Cyprus (PRWEB UK) 10 January 2012
TradoLogic, the world's leading Binary Options platform provider will be exhibiting at the ICE Totally Gaming expo between the 24th and 26th January at Earl's Court, booth 4131. They will be showcasing their high-end technology for a second year running, due to the success of last year's exhibit. The ICE expo is an invaluable platform, promoting original thinking and inspirational products, allowing TradoLogic to boast their Binary Options platform solutions. ICE 2011 resulted in many fruitful partnerships for TradoLogic and 2012 looks even more promising.
TradoLogic's success has been recognized with a nomination from the Totally Gaming Awards Show for Best Online Gaming Product of the Year. The Totally Gaming Awards will take place on Monday 23rd January at the esteemed 8 Northumberland Avenue venue in London's West End. The Award Show's partner associations include European Casino Association (ECA) and the National Casino Industry Forum (NCiF).
TradoLogic has been shortlisted as a finalist based on fulfilling the requirements of the following categories:
Originality and Innovation - In the last 12 months TradoLogic have patented trading tools available exclusively to TradoLogic brands.
Impact of Product or Service - Binary Options trading provides the trader, the gamer, the gambler and the amateur an opportunity to trade on the stock market, win money by predicting which direction an asset will go and play responsibly with a financial platform.
Commercial Success and Impact on Customer Experience - TradoLogic was the first to provide a full turnkey solution and OEM which allows their White Label's to choose from either a wide selection of layouts or self design of the website and only to implement the trading interface, CRM, CMS etc.
Social Responsibility – The TradoLogic platform has real-time market data (Reuters), therefore the responsibility to not manipulate the data, and the ability to reach everyone as well as to open doors to trading. Needless to say they only allow over 18's and have established a Fraud prevention and Compliance center to evaluate client profiles and estimate potential risk.
''Our nomination is a testament to the hard work our team has put in to make our platform the best available in the market today, I couldn't be prouder,'' says TradoLogic's CEO, ''we are also extremely excited about exhibiting again at ICE and partnering with more of the gaming world's finest.''
Visit TradoLogic at booth #4131 or book a meeting: [email protected]
For more info on ICE Totally Gaming: http://www.totallygaming.com/ice-2012
For more info on Totally Gaming Awards: http://www.totallygamingawards.com/
###