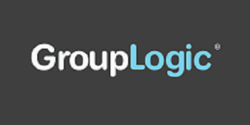 This recognition underscores that our corporate and product development efforts are making a significant, tangible impact not just on the security industry, but also on how people work.
Arlington, VA (PRWEB) January 10, 2012
GroupLogic, the industry's leading provider of software products that unlock the power of new enterprise platforms, announced today that the company and its enterprise Mobile File Management product, mobilEcho, have been named a finalist in five security-related corporate and product categories for the "Info Security Product Guide's 2012 Global Excellence Awards." mobilEcho meets the enterprise demand for security and access to corporate files on mobile devices like iPad and iPhone that lack a native mobile file system.
The categories where either GroupLogic or mobilEcho are nominated include:

"Most Innovative Security Product (Software) of the Year;"
"Wireless, Mobile, or Portable Device Security;"
"Innovation in Enterprise Security;"
"Best Security Software;" and
"New Product Launch - mobilEcho"
mobilEcho addresses the growing Bring Your Own Device (BYOD) trend by enabling IT organizations to rapidly install and provide simple, secure mobile file management for corporate iPad and iPhone users. As a result, employees are able to securely access the corporate file server from anywhere in the world, eliminating the need for work-arounds that leave critical enterprise files unsecure.
"Being recognized for creating a game-changing product like mobilEcho is a great honor," said Anders Lofgren, VP of Product Management and Marketing at GroupLogic. "This recognition underscores that our corporate and product development efforts are making a significant, tangible impact not just on the security industry, but also on how people work. We're looking forward to continuing on our path of helping IT simply and securely manage corporate file access regardless of an employee's device."
Info Security Products Guide is the industry's leading information security research guide and runs the Global Excellence Awards annually. Winners will be announced at the awards gala in San Francisco on February 29, 2012.
About GroupLogic
GroupLogic helps enterprise and education IT organizations simply and securely integrate diverse computing platforms into enterprise environments, connecting employees to enterprise files, content and assets to facilitate a more productive and efficient work environment. With more than two decades of experience, GroupLogic leads the marketplace in helping IT organizations effectively and easily manage the integration of Apple products into the enterprise ecosystem. Whether IT organizations are looking to integrate existing Apple assets, purchase additional Apple hardware like Macs and iPads, or want to take advantage of the hardware costs savings that accompany the adoption of IT consumerization, GroupLogic enables IT organizations to easily and securely manage the rapid integration of diverse platforms while ensuring resources are optimized. GroupLogic enables the enterprise to focus on what is really important – competitive differentiation, improved employee productivity, mitigated risk and reduced costs. GroupLogic's proven products—ExtremeZ-IP, mobilEcho, ArchiveConnect, and MassTransit—are in use by some of the world's most innovative companies, including Christie's, International Greetings and Omnicom Group. To find out more about GroupLogic, visit http://www.grouplogic.com or follow on Twitter @GroupLogic.
About Info Security Products Guide Awards
Info Security Products Guide sponsors leading conferences and expos worldwide and plays a vital role in keeping end-users informed of the choices they can make when it comes to protecting their digital resources. It is written expressly for those who are adamant on staying informed of security threats and the preventive measure they can take. You will discover a wealth of information in this guide including tomorrow's technology today, best deployment scenarios, people and technologies shaping info security and market research that facilitate in making the most pertinent security decisions. The Info Security Products Guide Awards recognize and honor excellence in all areas of information security. To learn more, visit http://www.infosecurityproductsguide.com and stay secured.
###
GroupLogic®, mobilEcho™, ExtremeZ-IP®, MassTransit®, Zidget®, ShadowConnect™ and ArchiveConnect™ are all registered or unregistered trademarks of GroupLogic, Inc. All other trademarks referenced herein are the property of their respective owners.