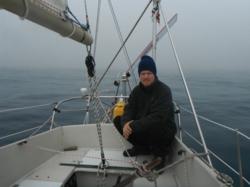 In sailing terms, 'Rounding the Horn' is the most difficult left-hand turn a sailor can make and taking that turn singlehandedly is nothing short of remarkable." Gary Jobson, President, US SAILING
Annapolis, Md. (PRWEB) January 10, 2012
Matt Rutherford, a 30-year-old Maryland resident, is set to round Cape Horn in the final leg of a 300-day odyssey circumnavigating North and South America in a 27-foot sailboat. When finished, Rutherford will be the first person to do the 25,000-mile voyage alone and without stopping. His motivation for the trip is to show people, particularly those with disabilities, that there are no limits to what can be accomplished in life, and raise money for Chesapeake Region Accessible Boating (CRAB), a nonprofit sailing program for people with disabilities based in Annapolis, Md.
"In sailing terms, 'Rounding the Horn' is the most difficult left-hand turn a sailor can make and taking that turn singlehandedly is nothing short of remarkable," said Gary Jobson, president of US SAILING, author of 17 sailing books and editor-at-large of Sailing World and Cruising World magazines. "Matt's journey in a 40-year old, 27-foot sailboat through treacherous, deep ocean waters, completely alone for 300 days, is one for the record books. He is truly proving that there are no limits to what a person can do."
While his trip has stayed on course, Rutherford and CRAB's fundraising could use "more wind in its sails." The nonprofit organization hopes to raise $250,000 – $10 for each nautical mile – which will go toward retrofitting CRAB's current fleet of four sailboats, purchasing new handicap-accessible racing boats and modifying a fishing boat for wheelchair accessibility. Donations can be made online at http://www.crab-sailing.org or by calling 410-626-0273.
During the first leg of his trek, Rutherford broke a record by singlehandedly sailing the smallest boat in history through the Northwest Passage, which is a small water route from the Atlantic to the Pacific along the northern coast of Alaska.
Before even reaching the Northwest Passage, he dodged icebergs the size of office buildings, was hammered by severe storms, and suffered the loss of several pieces of failed equipment. His left turn through Cape Horn at the southernmost point of South America, notorious for its storms and heavy seas, is predicted to be bookended by gale storms – one just before and after the turn. Then he faces several more rounds of dangerous winds before he reaches smooth sailing up the Atlantic.
Rutherford is accustomed to challenges. After a rocky childhood and string of school expulsions, he found salvation in a headmaster who helped him get on track. Inspired by a realization that life held limitless opportunity, Rutherford embarked on a series of journeys that took him across the world. Then, in his early 20s, he taught himself how to sail.
In the spring of 2010, shortly after returning from his second singlehanded transatlantic passage, Rutherford found CRAB. It was on this trip that Rutherford decided to start a sailing program for disabled people. When he learned CRAB was already fulfilling his dream, he began volunteering for the organization and, soon after, devised this fundraising voyage around the Americas. The 27-foot Albin Vega was donated and Rutherford raised funds to retrofit it for the 25,000-mile ocean voyage.
"CRAB helps give all types of people with disabilities – a child with autism, a paraplegic veteran, a disabled senior – the opportunity to do something they may never have dreamed they could do," explained Don Backe, executive director and founder of CRAB.
Backe understands the concept of limits: he has been wheelchair-bound for several decades from a car accident. He added, "We show people they don't have to be limited by a handicap. Our sailing programs provide an experience and new-found confidence that spills over into every aspect of their lives."
To track Rutherford's progress, map his course and read his ongoing blog about the trip, go to http://www.solotheamericas.org/.
About CRAB
Chesapeake Region Accessible Boating (CRAB) is a nonprofit organization based in Annapolis, Maryland, that provides opportunities for people with physical and developmental challenges to experience boating on the Chesapeake Bay. Founded by Don Backe in 1991, CRAB maintains a fleet of Freedom Independence 20 sloops, which are designed specifically for use by mobility-challenged persons. To learn more about CRAB, visit: http://www.crab-sailing.org.
###