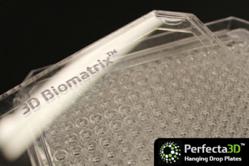 "Perfecta3D Hanging Drop Plates are the first tool to bridge cell-based assays with 3D spheroid cultures."
Ann Arbor, MI (PRWEB) January 11, 2012
Perfecta3D(TM) Hanging Drop Plates from 3D Biomatrix were featured recently in the journal Biotechnology and Bioengineering [1] in a publication exhibiting that data obtained in fluorescence- and colorimetric-based assays utilizing the three-dimensional Plates is robust, as determined by Z-factor calculations. The publication, authored by Amy H. Hsiao from the group of Shuichi Takayama at the University of Michigan, also demonstrates the use of the Hanging Drop Plates to form both random and patterned co-cultures. Mixed co-cultures, concentric co-cultures, and Janus spheroids were all featured. Additional information can be found in the data pages of 3DBiomatrix.com.
"This research demonstrates that our 3D Hanging Drop Plates can be used with traditional cell-based assays," said Laura Schrader, CEO of 3D Biomatrix. "They are the first tool to bridge cell-based assays with 3D spheroid cultures."
In the study, the Perfecta3D Hanging Drop Plates were evaluated for fluorescence-based assays by obtaining fluorescence intensity readouts of a series of dilutions of a fluorescein solution. Similarly, the plates were evaluated for colorimetric-based assays by detecting the absorbance of a series of dilutions of a food coloring solution. For each, the Z'- and Z- factors were calculated and were found to be comparable to those values obtained from standard two-dimensional 384-well plates.
Mixed and patterned 3D spheroid co-cultures also were demonstrated within the Perfecta3D Hanging Drop Plates. Mixed co-cultures were formed by mixing two cell solutions prior to seeding within the plates. Concentric co-cultures were formed by first allowing the seeding of a single cell type and allowing it to form a spheroid, and then by adding a second cell type. Janus spheroids were formed by retrieving a spheroid of one cell type and adding it to a spheroid of the another cell type.
Schrader added, "By forming mixed and patterned co-cultures as a 3D spheroid, researchers in tissue engineering, cancer biology, and cell biology can now form more realistic cell cultures."
Perfecta3D Hanging Drop Plates can be purchased at 3DBiomatrix.com or through a local distributor.
About the Company
3D Biomatrix, LLC is a life sciences company developing and marketing revolutionary solutions for three dimensional (3D) cell cultures. Cells grown on 3D Biomatrix products have been shown to retain a much higher complexity of body response than cells grown in traditional two-dimensional plates and flasks.
http://www.3dbiomatrix.com
Reference:
[1] A.Y. Hsiao et al, "384 Hanging Drop Arrays Give Excellent Z-factors and Allow Versatile Formation of Co-Culture Spheroids," Biotechnol. Bioeng., 2011.
###