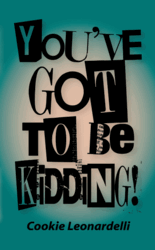 I wrote it to give hope to those who have struggled along in life.
Rio Rancho, NM (PRWEB) January 12, 2012
The notion that "everything happens for a reason" is popular, but a new book has one woman speaking from experience.
In "You've Got to be Kidding!" (published by AuthorHouse), senior pastor Cookie Leonardelli sheds light on God's purpose for pain through a candid revelation of her life's personal difficulties and tragedies. Hoping to bridge the gap between questioning and understanding reasons for suffering, Leonardelli offers a narration of the difficult events that changed her life.
"Even before writing this book became possible, I've been trying to understand why I've lived the life I've lived," says Leonardelli. "I wrote it to give hope to those who have struggled along in life."
And Leonardelli is no stranger to suffering. From a difficult childhood to dealing with the death of her father at a young age, she later endured a miscarriage and the death of her stepdaughter, as well as ridicule for her work for God. Touching on the controversial themes of death, drug addiction and the flaws of modern Christians, "You've Got to be Kidding!" is an honest read with the intention of encouraging readers to reflect on their lives.
Providing new perspective to the notion that God provides challenges for a reason, the book delves into Leonardelli's personal doubts, fears and insights along the way.
"My prayer for the reader is that they will find healing as they read," says Leonardelli. "Or, if they are in the small population that has not had to seek healing, an understanding of those who do. And of course, the expectation is that they'll say to themselves, 'you've got to be kidding!'"
"You've Got to be Kidding!"
By Cookie Leonardelli
Approximately 104 pages
ISBN: 978145696075
Retail price: $8.22
About the author
Cookie Leonardelli has been a pastor for more than 16 years, and works full time for her husband's pediatric practice. She says her years of journaling have helped prepare related multiple teachings in home groups and in Sunday sermons, but "You've Got to be Kidding!" is her first published work. Leonardelli lives in New Mexico with her husband of more than 30 years, her extended family, two dogs, two cats, and a wild rabbit named Rupert.
EDITORS: For review copies or interview requests, contact:
Jessica Kiefer
Phone: 317-602-7137
Email: jkiefer(at)bohlsengroup(dot)com
(When requesting a review copy, please provide a street address.)
# # #